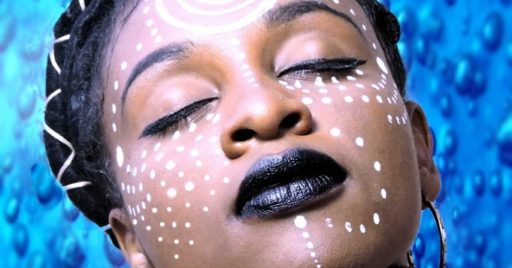 Yemaya She is the Yoruba deity of the salty waters and the orisha of motherhood, mother of all on earth, tireless protector of her children, mistress of the seas and keeper of the world's wealth.
Here we present 10 of their tastes and characteristics:
1. Nature and its blues
Yemaya it is in nature, in the sea and on the crests of the waves against the coasts and rocks. Offerings and thanks should be directed towards these elements.
2. Maternity protector
She is the mother of all children on earth and represents the source of life, fertility and motherhood. Yemayá likes to protect future mothers.
3. Ceremonies at sea
Yemaya She is the Queen of the Sea and as such adores it, so her religious ceremonies and offerings must always be linked to the salty waters.
The attributes of Yemayá are 7 oars, 7 adams (manillas), a crown, rudder, boats, seahorses, fish, shells, corals, a sun, a full moon, 1 hand of snails, a mermaid, plates, a life preserver, a star, a key, a maraca painted blue, round fans, a basin and everything related to the sea, made of iron, silver or silver.
4. Food offerings
Thanks to the goddess of the tides
Now deity of the seas Ochinchin of Yemaya made with shrimp, capers, lettuce, boiled eggs, tomato and chard, ekó (corn tamale that is wrapped in banana leaves), olelé (face beans or covered beans made pasta with ginger, garlic and onion).
He also likes green plantains in balls or yams with okra, black beans, gofio palanquetas with corn molasses.aña, burnt coconut, brown sugar and whole fish.
Among the fruits, Yemayá loves the offering of watermelon or watermelon, pineapples, papayas, grapes, water pears, apples, oranges, and other foods.
Rams, ducks, chickens, Angolan chickens, pigeons, quail and geese are also slaughtered.
5. White roses for "Yenya"
The deity is very fond of white roses, so, to ask for health, his devotees carry a basket of white roses, on the seashore they cry out for his help.
6. Joys and joys
A Yemaya he likes to laugh out loud and loves the joy of his children. Although she is also angry and rapturous when offended, she is righteous and does not allow her children to suffer. His personality can vary as much as the movement of the waves of his seas.
7. Dance to the rhythm of the waves
He loves to dance. His body moves like the waves of the ocean, at first gently, then tossed about by the storm. It appears to be swimming or diving in the ocean and may also mimic paddling. The other dancers circle her making waves like movements.
8. Protect the seafarers
It is said that Yemaya It can influence parts of the human body such as the uterus, liver, chest and buttocks. In addition, she is the patroness of all sailors, who invoke her protection when they go out to sea.
9. Symbols of respect
To carry out her Offerings, her name must be pronounced touching the ground and then the tips of her fingers are kissed, a symbol of respect to be contemplated before performing any ritual that the goddess values. They are greeted with great respect: Yemanjá, Yemaja, Yemaya Olokún.
10. Colors and elements of the sea
You can offer tools related to marine elements, and objects made based on their colors that are light blue and white.
Most read content: