The Sunflower is native to North AmericaAlthough at present this plant is found in most of the countries of the world and is extremely striking, as it can reach up to 3 meters in height and its large yellow flowers always follow the path of the sun.
The Sunflower plant has important beneficial properties for human health. It is recommended as part of natural and traditional medicine to treat colds, coughs and fever.
It is an excellent diuretic, as it removes fluid from the body and fights conditions such as cystitis, kidney stones and urinary diseases in general. In addition, it has anti-inflammatory properties and acts as a disinfectant and healing agent.
But also, it brings us many esoteric, spiritual and purifying properties in our life.
Sunflower Oil: Magic Elixir for love and prosperity
One of the magical properties of the sunflower, as its name implies, is its relationship with the star king. Its name comes from the Greek words, elios which means sun and, anthos flower.
For this reason, the oil made from this plant is extremely popular and powerful for its medicinal and esoteric uses, which are said to harbor the powers of the sun itself.
Sunflower oil is used for various purposes in rituals and spells.
The sunflower, as we can see, is a magical plant par excellence, and sunflower oil has important uses for:
Love: Among the magical properties of sunflower oil, its ability to integrate true love spells stands out.
Strengthen and lift your spirits: As the sunflower always seeks sunlight, the magical properties of its oil also include the strengthening of positive thinking and the elimination of depressive ideas.
Enhance good energy: Through oil, this plant can give us its strength, energy and vitality when we have important tasks ahead or decisions that we must make.
We also use sunflower oil to enhance spells of good luck, health and happiness.
A Simple Ritual to protect ourselves before leaving home:
Before going outside every mañana put a little of this powerful essential oil on the third eye, it is located on the forehead, exactly between the eyebrows.
The third eye is the most important nerve center in the whole body, also known as the "sixth sense", which is why placing the oil in this place is so comforting.
This small and simple ritual will protect us during the day, from bad influences, negativities and enemies.
Note that This oil is for your personal use, do not share it with someone else.
How will it help us?
It will activate our intuition: This oil will keep us away from bad situations and misfortunes, alerting us to danger and improving our intuition.
Away the evil eye: We will always be a target for bad eyes, those that sometimes without us doing anything harm us and harm us by closing roads.
By smearing those droplets of the essence, a protective shield will be activated against everything bad.
3 Uses of sunflower oil in spirituality: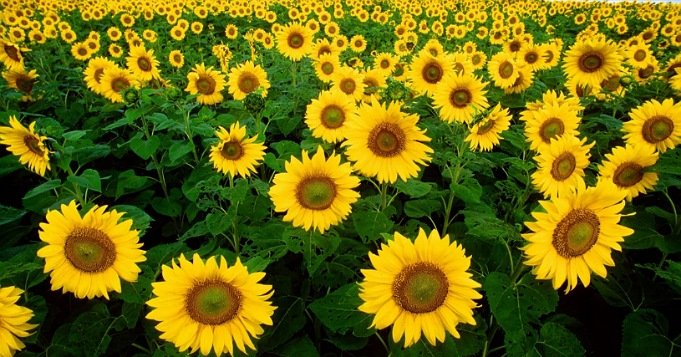 1. In Incense to purify environments:
The incense that is made with sunflower oil will also help us spread the aroma of this plant through the physical spaces in which we find ourselves to banish sadness and misfortunes.
It will also block bad energy and attract luck, joy and fortune.
Sunflower oil has a very mild, slightly aromatic, greasy, nutty and woody odor and has a toasty or green note.
2. In spiritual baths:
Sunflower petals together with cinnamon powder and honey will help us attract prosperity to our life and love.
That essence of the flower in the water brings us many spiritual benefits.
If we mix these elements in a bowl with boiled water and rinse our body with them, we will be calling for good luck and abundance.
3. Used the oil in homemade candles:
Candles made from sunflower essential oil also help us attract happiness and good luck to our home by giving light to the spaces.
You can make an infinite homemade candle with very few elements, using sunflower oil, learn how in the following article: CLICK HERE TO READ MORE
Learn more about other oils and the power of sunflower:
Most read content: