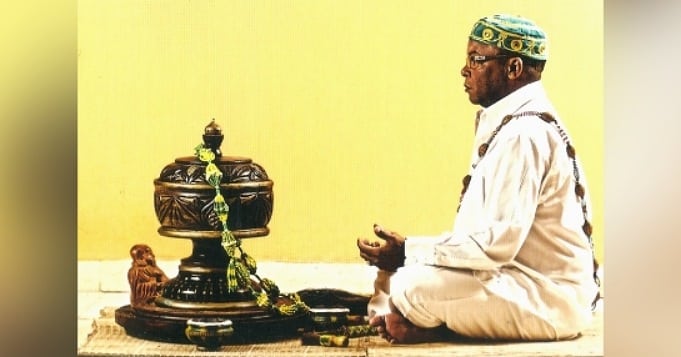 Adalberto Álvarez the Knight of Son, one of the glories of Cuban music with his iconic song "And what do you want them to give you", paid tribute to the Orishas and made his Afro-Cuban roots known to the world.
This outstanding musician not only sang to the Yoruba Pantheon, because he also knew how to carry it in his heart, showing the world his religion and his idiosyncrasy.
Music and faith, two pillars for Adalberto
He came to this world under the name of Adalberto Cecilio Álvarez Zayas, perhaps by a whim of fate or by pure coincidence, his path on this earth was intertwined with scores and musical instruments, being baptized under the male name of Santa Cecilia, the patron saint of musicians.
Camagüeyan at heart, although he was born surprisingly in Havana after an unexpected visit to the capital by his mother.
Adalberto dreamed of being a pilot, but some time later he became convinced that his only path was music, art being the ticket that would lead him to be known and loved inside and outside of Cuba.
In 1991 Adalberto Álvarez was consecrated as an Ifá priest
It was in 1991 that Adalberto Álvarez was consecrated as an Ifá priest, a fact that gave a 360-degree turn to his life and his songs.
It was precisely his faith that allowed him to achieve the greatest of his musical successes with the theme And what do you want them to give you?, a song that he composed inside the Ifá room, in which he explains from his perspective what happened inside the holy rooms.
Adalberto Álvarez respected and loved his Yoruba roots through his conceptions, way of proceeding and musical repertoire.
With this he did not seek to win fans or impose his beliefs, but, as he himself expressed in an interview, he sought that the religious feel identified and that the world know the Cuban Yoruba pantheon.
One of the hardest blows she had to face was the death of her mother Rosa Zayas who in life gave her a lot of ashé to give life to her songs and unintentionally immortalized her through her music as an icon of good luck for soneros. .
He died in Havana on September 2021, 2, after suffering complications after being diagnosed with the Sarcov 19 virus or Covid XNUMX, a pandemic that hit the world, claiming millions of lives.
Adalberto Álvarez left this world physically at the age of seventy-two years, and thirty years of consecration in Ifá, becoming immortal in Cuban culture and in the heart of all the dancing people of the world.
Most read content: