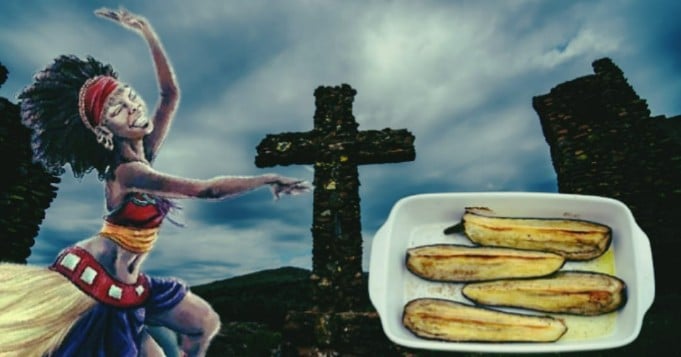 Oyá, known as Yansá, is one of the major female Orishas of the Yoruba pantheon, characterized by being a great warrior, she is the owner of sparks, whirlpools and hurricanes.
Yanza dances with death, she is the mother of eggunes and spirits, from this astral she accompanies usaña when we die and gives us spiritual tranquility when leaving the earthly plane.
In nature, it is she who is responsible for causing the strong winds that devastate; she also guards the doors of the cemetery, so she is directly related to death (Ikú).
having faith in Oyá You will have what you want, if you ask for it with your heart. She can offer us even what we believe is impossible, as long as she considers that this path is the one we must take and to accept it we must act wisely.
Ingredients:
2 eggplants
Big dish
Corojo butter
Smoked hutia
Smoked fish
Toasted corn
2 candles
9 cents
offering to Oyá to attract I will go both spiritually and materially
To make this addimú (offering) we must cut the aubergines elongated until we obtain 9 slices, that is, you must cut them horizontally.
You must spread each of those slices corojo butter on both sides.
Then, carefully put them on a plate and pour a little smoked jutía, smoked fish and toasted corn on top of each slice.
You will stick the 9 cents in each of the slices, that is, one cent for each one.
Light the two candles and ask for the blessing of Oyá giving knowledge of what you want to do on his behalf and for what purpose, so that he can help you.
short prayer dedicated to Oyá when doing this ritual
My Orisha Yansa, goddess of storms and rainbows, my Lady who frees those who are desperate and distressed, help me at this time that I need you in my life.

I know how powerful and strong you are. You are stronger than the violence of two hurricanes and with your winds you stop them!

Just as you have the strength to lead the world of the dead, I ask before you dear Orisha, with this prayer, guide my steps, make all evil dissipate and luck come to me.

Help me to achieve this grace (make the request), do not let me lose faith and allow me to become aware of how powerful and miraculous you are, I will thank you forever.

Thank you my dear Orisha Oyá
Tips for making this offer:
Remember that each offering for the orishas is a gift that is offered from gratitude, faith and humility, try to make the presentation beautiful.
After 9 days you must take this Addimú to Oyá at the gate of the cemetery, which is where his deity habita.
Light the candles every day for a while until the 9 days are up, take advantage of this time of day to meditate by your side and reflect on your request, put a lot of trust and faith in it so that your prayers are heard.
I sincerely hope that this addimú a Oyá help you get what you want, a hug and many blessings for you.
Know more Oyá, warrior orisha mother of spirits:
Most read content: