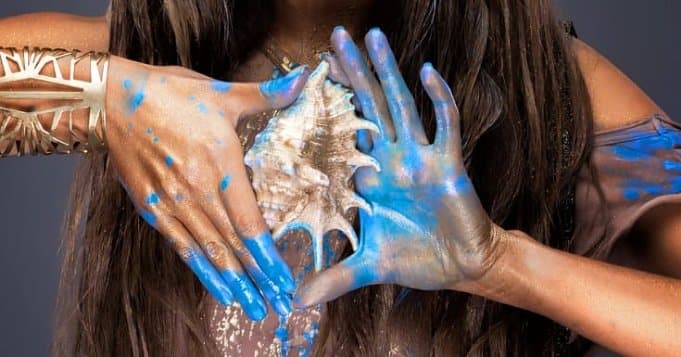 Mother who marks life itself, found in sand, waves, snails, reefs, stones and fish. It is the sea in a single word, the mighty and immense ocean.
Who is Yemayá?
Yemaya is the mother of the Universe that habita in the largest house in the world, where life itself begins, she is the balance of power, encompasses the secrets of births, nurses the world, powerful queen, majestic, brave, unbeatable, daring, there are many adjectives to characterize the mother of all.
Powerful queen of the Yoruba religion, African goddess who watches over all her children, angry and impetuous when offended and justified by nature, with her iruke she cleans, blesses and heals in her wake.
Syncretized in the Afro-Cuban religion with the beautiful mother La Virgen de Regla, also queen of the waters of the seas and venerated for her miracles and deep love for her children.
Whoever has Iyá Yemayá crowned should not pronounce her name without first kissing the ground with the tips of their fingers and then kissing them.
Elements and attributes that identify Yemayá:
Their tools are made of steel, lead, and silver and are as follows:
The Sun (Olorun, Òlórúnm)
Full moon (Kikun oṣupa)
Anchor (Dakoduro)
Lifeguard (Yika)
Boat (Okó)
Seven rings (Bopa)
Key (Chileku)
Seven silver hoops
Iruke (horsetail with handle) adorned with blue and white beads as the colors that identify it.
Wear an opulently dressed wool or silk cloak.
A bell (Agogó), to greet her
A fan with mother-of-pearl rods, with beads and snails.
The agbebe: round fans made of guano leaves adorned with peacock feathers, snails and bells.
All these attributes of Yemayá are decorated with everything that belongs to the sea and with blue and white beads. Decorations with marine elements are made and offered to the Goddess of the sea with love and faith.
Yemayá necklaces are made of seven transparent glass beads, which are called "water" and seven blue beads.
Each path of his represents various facets in his life, his nature, his changes of character, personality, and in them his tools of power and his attributes also vary, but not his greatness.
Most read content: