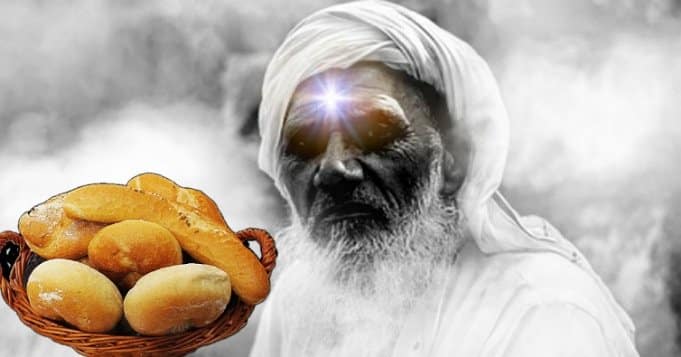 This work is for Obbatalá, the owner of everything white and pure, the Orisha who transmits peace to us, gives us tranquility and health, the owner of our lerí (head), of our thoughts, of our dreams, and of our mind.
Even if you are not consecrated to Obbatalá you can carry out this work as long as you have faith and love for him.
It is simple to do and very effective, you can do it to thank, to make a special request or to beg the white father to help you in a bad situation.
If you are without strength, without spirit, poor in health, poor in income, or even powerless in spirit, and with many obstacles, you can do this work to open paths.
Ingredients:
As the main element of the work we will use bread, which is a very powerful and ancient food with a lot of spiritual energy.
2 candles
White plate
4 loaves
Cocoa butter
Cascarilla
Honey
Water container
How to prepare the offering for the beautiful Father Obatala?
First you light your 2 candles in front of Obbatalá and if you do not have it, do it high.
In the white plate you put the 4 loaves and with both hands you are going to spread cocoa butter to each one.
Remember to let the candles shine until they are gone.
Then you put each bread on top cascarilla and pour honey, just a splash to each and say:
Babá Obbatalá here is your daughter / o (you say your name), asking for your blessing and giving thanks for everything you have offered me and are about to offer.
Adored father, King of whiteness
Give me your protection forever and I beg you to raise my plea (you say your needs)
Thank you for so many blessings.
A powerful bath for abundance:
Once the prayer is finished, you take the 4 loaves from the plate and put them in the container with water, make crumbs of the bread until it is broken and with that you will take a bath.
Always from the shoulders down asking for all the good things and warding off the bad in the name of Obbatalá.
Recommendations for these spiritual Baths of Obatalá:
Remember not to dry yourself, you will let that water dry on your body.
Clean the shower and dump the remains of elements.
This play will be done before you go to bed.
Try to wear white to sleep.
Can I repeat the play?
You can repeat this work for 4 days in a row if your problem is greater.
If you want to do it for several days Every day you will change the loaves but the candles would be the same, lighting them every day for a while instead of letting them fully consume the first day.

May Babá's blessing always be with you and may you have a lot of faith, love and humility as you perform these spiritual baths in Obatala.
I share other works on behalf of our father Obatalá:
Most read content: