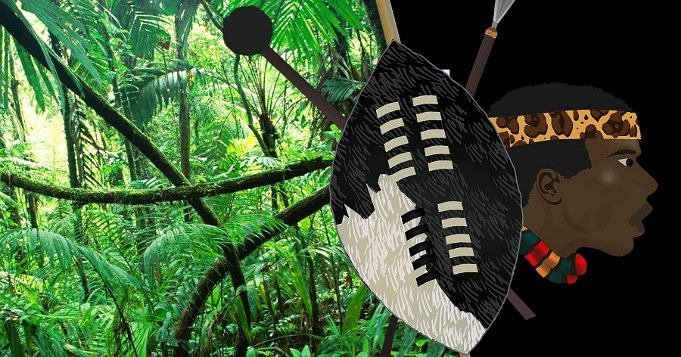 Oggun makes up the trilogy of the warrior Orishas together with Eleggua y oshosi. He is one of the most powerful saints belonging to the Yoruba Pantheon. This saint is syncretized with Saint Peter in the Catholic Religion, being also related to the virtue of work.
Said Orisha habita in the thickness of the mountain, where it was removed thanks to the magic of Oshun's honey.
Oggún also takes possession of the railway lines, a place where he works tirelessly from sunrise to sunset and where many of his holy consecrations are carried out.
The Colors of the warrior Oggún
His colors are green and black, his number is three and the favorable day of the week to attend him is Tuesday, although he can receive offerings any other day.
Oggún is a saint who is always prepared to fight because of what represents the acts of war and the sacrifices that are carried out for this purpose.
This saint is the owner of the operating room and of all the working instruments that are made from iron, the representative metal of the African deity. He is a righteous deity who does not admit injustice, nor the raising of false testimonies in his presence.
The deity of war and hard work is represented through the color of nature.
Green is an energetically powerful color, it not only represents hope, it also embodies nature through its thick green foliage.
This tonality represents life, offers calm and comforts the spirit, bringing peace to the person who observes it for what is considered an anti-stress color.
This holy warrior manifests himself through the natural elements that take on the green tone, which is why it is believed that his spirit habita in the manifold
Through this tone, the deity reflects youth, a divine treasure in the life of every human being and animal, marks new stages and changes, which often come withañatwo of making big and drastic decisions.
The night is reflected on Oggún Choro Choro's costume and eleke.
The night is represented by the color black, a time of day where the Orisha fights and performs strong religious works, where he establishes pacts with ancestral and fundamental spiritualities.
The black color represents the infinite and the secrets of the destiny of humanity that are protected under the care of orunmila the great Oracle of Ifá.
This tone figuratively reflects the presence of the land on which we live, to which later and when our day has come we will descend and to which we owe ourselves in respect and gratitude.
Most read content: