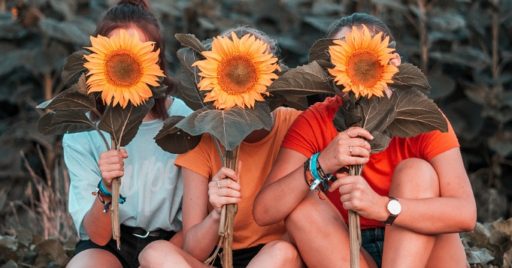 The Patroness of Cuba, the Charity of Copper and Oshun, the Yoruba goddess of Love and Rivers, receive the love and devotion of millions of devotees every September 8. Cubans adore the Caridad del Cobre and the Orisha Oshún, syncretized in Afro-Cuban culture and Catholicism.
They bring offerings to the sanctuaries, worship them on altars, make promises and ask for protection, health and prosperity from the calm waters of the rivers, an element of nature that represents him.
Every September 8, in Cuba, Catholic and African cults of prayers and offerings of sunflowers, candles, offerings of food and shiny objects are mixed in an extraordinary way, all destined to Oshún and Caridad, in gratitude for being protectors of the people and symbols of an entire nation.
Give love to the Holy Orisha in her day:
One of the best ways to celebrate the holy orisha in her day is by dedicating time, faith and love to her, there is nothing in this world that with humility is not wonderful.
1. Let's talk to the deities from the river
Let's visit the temple of Oshún, the river, its main natural force. And from its calm waters let us pray and talk with the Orisha and the Virgin, thanking them for all the joy they give us and asking them to wash away the sadness and evils of this world with their waters.
In its waters we deposit bouquets of sunflowers so that they reach her and adorn her, like the beautiful goddess that she is.
2. Let us pray in the Shrines and at home
Every year, to honor both deities, Oshún and Caridad, on September 8, we go to the Sanctuary of the Virgen del Cobre in Santiago de Cuba or to the different churches dedicated to them throughout the country and there we bring flowers, candles and we pray for a better year, with greater joys and without fear.
But this year is different, in the midst of a global pandemic, few will be able to approach the sacred temples to visit the saints, so from our home we must ask the orisha and the mother of Cubans with great faith for health, love and prosperity. , so that he grants us his grace and his blessing and with his protective mantle he shelters his children on earth and provides us with healing.
3. Let's dedicate altars in his honor
Oshún always appreciates all the displays of love and devotion on the part of his devotees. She enjoys in her day, the loyalty of all those who adore her.
That is why we can make an altar in his name also dedicated to the virgin, always with great faith and showing gratitude. We decorate it with distinctive colors and aspects such as yellow cloths, as well as decorations that we want to offer, sunflower flowers and white or yellow candles to give light and gratitude.
The altar can also contain a representation of her, such as a picture, photo or sculpture and before her we pray for the happiness and health of all.
4. We offer sunflowers and a lot of faith
In front of the altar, if we have the possibility, we will put 5 sunflowers, otherwise any flower, even if it is from our garden, will be well received by the saints.
And it is that the sunflower is seen throughout Cuba as an element of positive power representing the Orisha Oshún in Afro-Cuban Santeria.
The sunflower is the flower that represents sunlight and symbolizes good luck, health and happiness for its colors and for its permanent search for light. And that is why it is associated with the Orisha Oshún and the Virgen de la Caridad.
This flower is one of the best offerings as it represents faith, love and union. For many it is also a symbol of fortune and wealth.
5. Offerings to Ochún of his favorite foods
On the altar or in the river, we can put offerings of the favorite foods of the Orisha of Love, for example:
Oshinshin, Oshún's favorite food, which integrates ingredients such as Swiss chard, 5 eggs, 2 Kilos of shrimp, Butter, Pepper, Capers, Butter, 2 Onions and Olive Oil.
gofio crowbars
honey
I smelt with saffron
fine sweets are his favorites
doves
squash
pumpkins
6. Rthanks and love
To Oshún and to Caridad we dedicate that day our most heartfelt prayers of gratitude for all that they have given us, with faith and trust in our guide.
Prayer can be done in front of an image of the goddess and prostrating ourselves before her. You can also light some yellow or gold candles and an incense to eliminate all the bad things from the environment and purify the space.
They are thanked from the deepest feeling and with great faith. We should always be grateful for what we have and for your blessings.
Prayer in Yoruba to thank Ochún:
We now present a prayer in Yoruba to thank the Orisha Oshún, remember to do it in a quiet place, with a clear mind and a lot of love:
Oriṣa ọlọrun Oshun ti o tẹtisi awọn adura mi, ọlọrun ti ifẹ ati ẹniti or ṣe itọsọna mi bi iya kan lojoojumọ, or ṣeun fun ṣiṣe mi ni ojurere yii, fun fifun gbogbo ohun ti niti loi rju moere lju rjum pei moere loju lwa lju pejum peii moere loi rjum pejum. Awọn ọrọ mi ko to, awọn pẹpẹ mi kii yoo dẹkun lati ni owo-ori fun wiwa rẹ ti o wuyi, iyẹn ni idi ti Oshun olowo iyebiye ati olufẹ mi, Mo dupẹ lọwọ rẹ.

Ni akoko pipẹ Mo beere lọwọ rẹ fun ọpọlọpọ awọn ohun, lati ilera, ifẹ, aisiki ati idunnu ninu igbesi aye mi. Ni akoko yii emi ko fẹ beere lọwọ rẹ ohunkohun, Mo kan wa lati above ni iwaju rẹ lati dupẹ lọwọ gbogbo ohun ti o ti fun mi ati ti or ṣe fun mi.

Iwọ nikan mọ awọn aini mi, or mọ ibajẹ mi ati awọn agbara mi. Iya iya, Mo beere lọwọ rẹ pe ki or fi mi silẹ ki or tọju mi ​​ni awọn ọjọ wọnyi nibiti ewu wa leralera. Mo tun beere lọwọ rẹ lati daabobo idile mi ati gbogbo awọn ti o wa ni ẹgbẹ mi nigbagbogbo. Ṣe gbogbo ifẹ rẹ tẹsiwaju lati farahan ni igbesi aye mi ati ti idile mi. E dupe!
Thanking the Goddess in Spanish:
Glorious goddess Oshún who has listened to my prayers, the goddess of love and who, like a mother, guides me day after day, thank you for doing me this favor, for granting everything I ask of you and that I am getting better every day. My words are not enough, my altars will never cease to have a tribute to your beautiful presence, that is why my precious and beloved Oshún, I thank you.

For a long time I have asked you for many things, from health, love, prosperity and happiness in my life. This time I don't want to ask you for anything, I just come and prostrate myself in your presence to thank you for all the things you have given me and done for me.

Only you know my needs, you know my regrets and my strengths. Pretty little mother, I ask you not to abandon me and take care of me in these days where danger is very frequent. I also ask you to protect my family and all those who are always by my side. May all your love continue to manifest itself in my life and that of my family. Thanks!
Remember that the important thing is to offer gratitude, love and faith, no matter how little you offer, it should always be from the heart. Let us pray for the health of the world, now it is what we need most.
Blessings for all and that the beautiful mantle of the Virgin and the Beautiful Oshún always protect us.
Most read content: