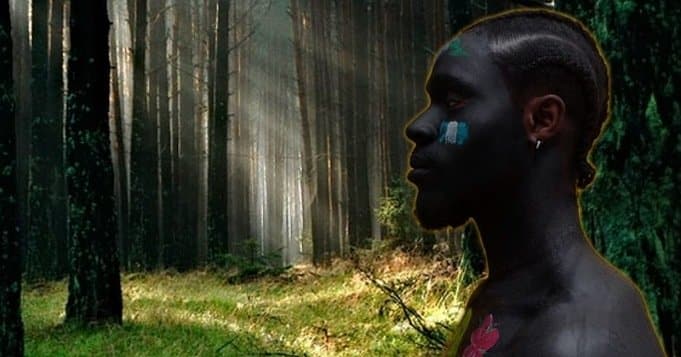 We ask the Lord of Irons for clarity to see the best opportunities for personal growth on our way.
We also ask you with your immense strength to protect us from all evil and all negative intentions that point in our direction.
What powers does Oggún represent in the Rule of Osha or Santeria?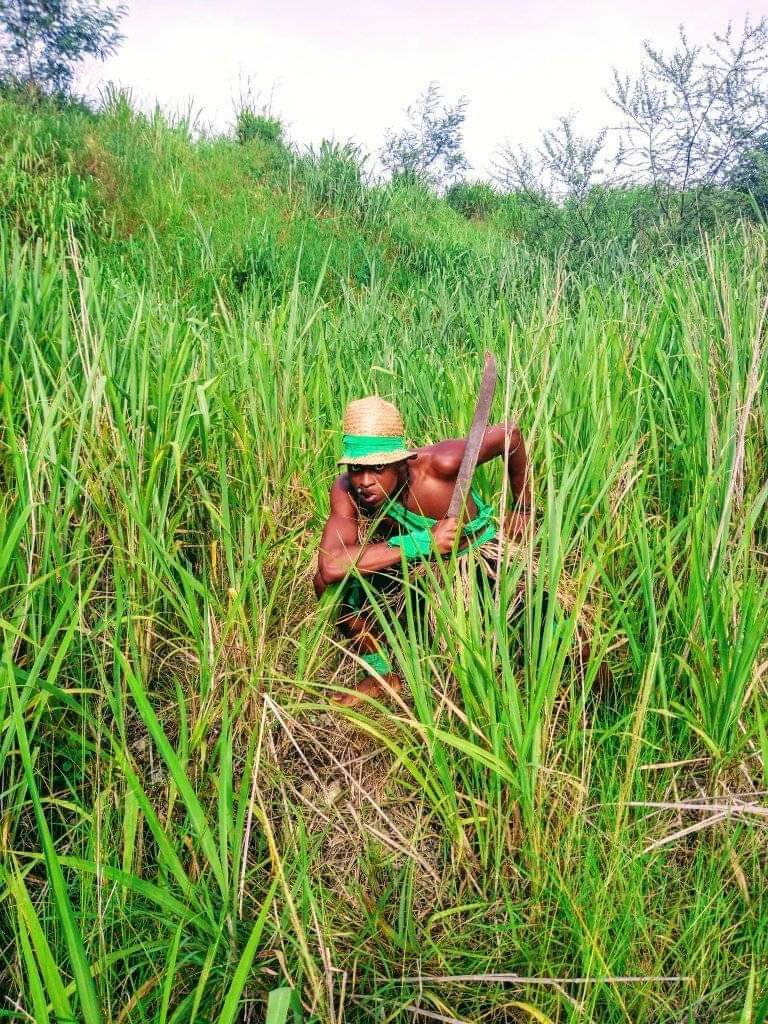 Oggún is an older Orisha, brother of Monkey y Eleggua. He is the god of minerals, mountainsañas and tools and as such, patron of blacksmiths, mechanics, engineers and physical-chemical and soldiers.
He is a powerful and violent warrior, with immense powers that accompanyañan fundamentally, to devotees who begin their spiritual path.
But he is also a tireless worker who symbolizes the gatherer, the lonely hunter and wanderer who roams the forest and knows all the secrets. He is a witch and dominates the mysteries of the mountain.
He is the owner of keys, chains and prisons and manages to represent qualities such as rough and initial strength, which encloses the box of the human body.
Although he is a warrior and a symbol of battles, he also protects medicine. Therefore he gives his protection against accidents and helps his devotees along the way.
Oggún is the owner of the mountain together with Oshosi and has complete control over the roads with Eleggua.
He has a direct relationship with Obatalá and is highly respected for his great temperament, vigor, and endurance.
It is he who takes justice into his own hands and protects all the entrances to houses and temples.
Normally he is associated with Saint Peter in the Catholic religion, since the image of this saint shows that in his hands the keys to the kingdom of heaven.
Attention to the great warrior of the Ocha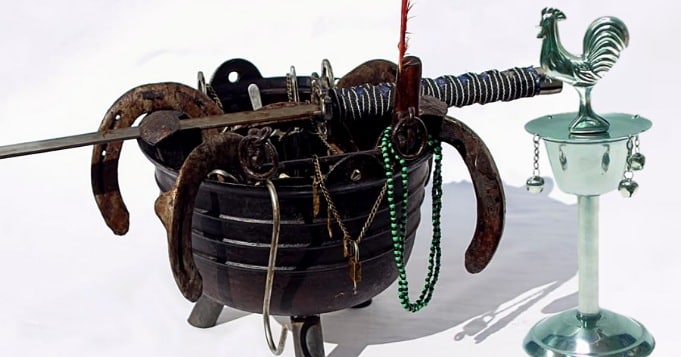 Let us remember that to pray to the warrior Oggún we must do it with respect and humility, and if we wish, by invoking him we can also grant him our offerings to entertain him.
In addition, it is necessary to show a lot of faith and devotion so that the warrior listens to us, and above all to go to him bravely and with sincere intentions.
Only then can we count on his immense strength and his guidance, to face multiple situations.
How should Oggun be cared for?
He smears corojo butter on the cauldron, also on all the tools and his otá (stone).
Then brandy and tobacco smoke are blown on it and a white candle is lit.
In your attentions we can offer you your offerings.
What fruit and offerings is offered to Oggún?
As offerings you can offer fruits that can be melon, watermelon, the latter refreshes you a lot.
Other fruits like plantains, yams, and coconut candy he loves and appreciates it.
You are offered corojo butter, honey, smoked fish, roasted corn, roasted yams, kola nuts, white beans and liquor, preferably white rum and brandy.
When and where to attend Oggun?
Let us remember that, as one of the warriors, you are served on Mondays, although we can always assist you whenever we want.
In this way we can also attend it on its day, on June 29 of each year.
We can entertain Oggún on an altar dedicated to his figure and adorned with his green and black colors, in which we include lighted candles and tools that symbolize him.
We can also look for him in the mountains, where he always remains working for the Ocha, it is his natural temple.
Pray to the Lord of Irons for our safety and protection
Different prayers are made to Oggún in order to obtain the support and strength of the deity in matters such as love, for work and even to ward off enemies.
Let us always remember to pray to him with great faith and go to him showing courage and courage to face the situation.
Usually the devotees go to Oggún, Patron of the Metals, to solve the following questions:
Prayer to Oggún for love and to recover lost love.
We can pray to Oggún to find that love that we lost, because despite being a powerful warrior, he is also very close to the Goddess of Love, Oshún.
He can support us on issues such as recovering a partner after a fight or for our love to return.
Ogun, glorious warrior I invoke you before the name of the almighty, I invoke you and I conjure you so that, at the dawn of this solemn day, you grant me divine grace, which I ask of you, that (say the name of the person) be dominated (a) and conquered (a) by me, what pleasure he does not have or feel until he comes to my home and or the tranquility you give him until he is by my side.

May with the strength of your machete and the aura of your holy mantle we be covered and surrounded and with your hands tied our hearts have remained.

Ogún, to the holy name to my devotion I invoke you so that (say the name of the person) you have affection and devotion to me, Anima de San Juan Minero who loves me as I want him (a) and that his spirit, body, and soul of (say the name of the person) that from this moment I have no more illusion, but that it is for me. Amen.
I pray to Oggún to ward off and defeat enemies with the Oshosi Warrior
Oggún not only helps us to ward off enemies, but also to avoid all the negative energy that they send into our lives and that can cause difficulties such as car accidents, gun accidents, illnesses, etc.
We pray together with Oshosi, Osha's vigilante with bow and arrow.
Lawsuit winners: Oggún and Oshosi

Its lands, the green, the plants, the bushes.

I come to our help to cleanse my body,

My mind, my soul and that of (mention enemy's name)

Make those who wished us bad regret it, walk away and leave.

Whoever wants to harm us, is immobilized to do nothing.

Ogún with your silver sword, Ochosi with your magnetized bow and arrow

Cross jungles, fields, plains, mountainsañas, the seashore, or waterfalls.

Because you are warriors of bravery, of lineage and bravery

Do not allow armies or legions of evil to bend, harm or evil

My planting, harvest, tools, my house, or absolutely nothing.
For work and find better job opportunities a prayer to Oggún
To the great warrior and tireless worker of the Ocha, we can also pray that he shows us better opportunities for work and personal growth.
He will listen to us and give us his support and advice to achieve a safe job and improvements and successes in that area.
We ask the Patron of the Irons to show us the best opportunities:
Oggún eternal Father, my guide, my strength, I praise you, my savior, you have here your Son.

Son who has sinned, but by adoring you, you are praised for your love.

For your eternal goodness, as well as your security, I know that you will give us Father for you that nothing is impossible. Because your grace is immense, knowing that you never abandon me, because in the midst of my agony never let go of my hand.

You are peace, you are life, you are love and consolation, that great warrior who opens the way for his children. For us to achieve well-being, from everything that is almost impossible for us.

In the shadows Oggún your light is my guide, I come kneeling before you to cry out for your eternal goodness. Because I know how I am also sure, that being by your hand I will fear nothing.

Because you my Lord, relieve the burdened, I beg and implore you relieve my great worries. That is why my great Lord Oggún comes to you, so that my requests may be attended to.

I want you to see this great need to get a good new job, my Father. Because I know your plans are perfect, but I feel cornered.

That's why I come to you to make my job request, I want that decent job so I can support my family. I know that you, in your eternal goodness, will not let me fall because I will always be by your hand.

Oggún I beg you that my wish be granted, I know promptly that you will open doors and windows for me, because in your immense mercy, you will find a worthy job for me.

Help me Oggún to be patient, give me that prosperous decent job. Intercede in my request to establish me financially.

Help me get that stable job that I so badly need. Make me a provider, bless my being as well as my family, to start my own business, help me oh Father.

Oggún, you fill the heart with consolation, relieve the heart of this servant of yours who needs you. Do not abandon me in this moment of despair, take my hand also show me the path that I must travel.

Hold me in this moment of despair, that only You know how to attend. He trusted you because you never leave your children alone, being a great Father full of mercy.

In this hour of hopelessness, like deficiencies I take your hand to feel relief. As I also feel hope. Father you who know the desires of my heart.

You know that I need a job, a job that pleases me, that fulfills me so that as a person I can be valued. So for my work I am very well rewarded, that for my work your effort be recognized my great Lord.

Thank you for your great love in addition to your great kindness, because you are a warrior who in the sun and shadow were not afraid to face the greatest obstacles that you encountered on your way Lord.

I want you to be the great warrior to help me, with that decent job that I need so much. Oggún I ask you to put honest people in my path, give me wisdom to teach my abilities.

Help me get a good job so I can get my duties together successfully so I can achieve your blessings.

Relieve my soul with your fine essence, with your omnipotence you were able to save the seas and rivers. I fully trust you, because you will not abandon your child who cries out to you.

Oggún! My Lord, I light a white candle to give you thanks, because great is your power as well as great is your mercy. Amen.
Prayer to Oggún for financial stability and for the money to flow
If we pray to Oggún with great faith and show him that we strive in our work, he will intercede for us in matters of prosperity and material abundance.
We ask him for stability to be able to keep our family away from bad spells and supply it with everything they need, without ever lacking anything.
Great Orisha, winner of wars and owner of all lands.

I evoke your presence on this wonderful day for a reason.

I need your help to end all those problems that torment me. Clean my paths, so that I can find fortune and wealth within my life.

Grant me and hear this prayer that comes from a faithful son of yours and a noble heart. I know that you will not fail me my father, Ashé
A prayer to Oggún to ask for his powerful protection and open paths
We can always turn to Oggún when we face difficulties and we ask for the strength and courage to face them and move forward.
We also implore him for his guidance and protection against all evil, so that no danger enters our house or harms our family, since he is in charge of keeping the homes of his faithful safe.
We ask the orisha Oggún to protect us with his immense powers, to give us strength to face the obstacles and difficulties of our day to day and achieve victories.
The warrior will help us to always show courage to defend our loved ones from any danger and to protect our home from everything they want.añarlo.
So we pray to Oggún to protect us and protect us.
Lord of the Irons, who work day and night to grant good on earth, grant the favor I ask for this day

You who together with Eleguá rule the earth and the oracles of life and death,

Oggún, My Father, you who work day and night and never abandon any of your children, always offering them your immense protection on the path of life

Grant me today these favors that I ask of you

I come to your aid, mighty warrior, so that your strength cleanse my body, my mind and my soul and ward off any evil destined for me.

I ask you Oggún, your powerful protection and your strength and courage to help me overcome and eliminate any danger destined for me and mine

Ogún, Lord of Metals, protect me and guide me with your determination, bravery, passion and courage, guide me along good paths and keep me away from dangerous paths

Do not allow any spell, bad energy or enemy to penetrate my house, nor absolutely anything damage my spirit

Unfold your protective mantle over me and my family so that with your eternal blessings I can continue to walk safely through life

So be it
Works to Oggún that we can offer him out of gratitude and to open paths:
Most read content: