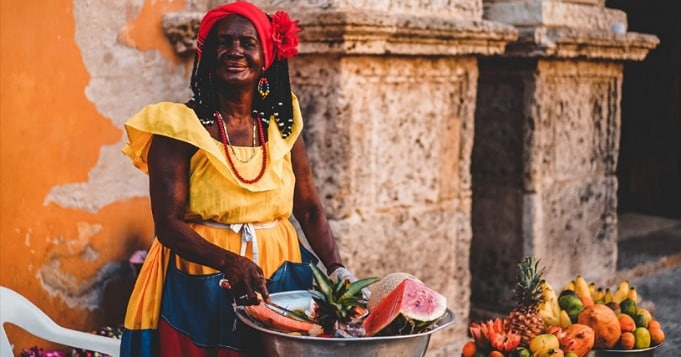 The ruling divinity this year, according to the Letter of the year of 2023 is our white father Obbatalá accompañaof the Yoruba deity Oshún.
This letter gives important messages to all religious so that we live firmly, calmly and surrounded by peace, offering advice and warnings to alleviate the fate of human beings.
Warnings and advice for the year 2023 according to the Letter
This is a year where ethical moral values ​​must be rescued, where we must make big changes in our behavior, acknowledging the mistakes made to move forward. I share some important advice and guidelines that as good religious we must comply with.
1. We must be humble, patient and have a lot of faith
Let's try not to stumble over the same stone again this year, because it is not about stumbling two or three times, but about learning why you have stumbled over the same mistake over and over again.
Learn from those mistakes and act differently, always asking for the blessing of the Orishas.
As long as we are humble, life and deities will reward us with blessings, we just have to be patient and act from faith.
2. Follow the word of the deities
It's time to change, to understand, to assume our responsibilities as religious and be well subject to the word of Orunmila, and to the guidance of the Oshas and Orishas to overcome all difficulties.
3. Comply as religious
Must become much more attached to our religious habits, take more time with our Oshas and Orishas, ​​paying tributes, thanks, bowing, being obedient and disciplined.
4. Respect for elders
We owe our elders treat them with respect, affection and loveThis is a fundamental pillar in our society and in our Yoruba religion.
Unfortunately, much of that respect has been lost within our religion, so we must make a call and unite in this regard so that the elderly are listened to, receive help, avoiding being ignored or mocked.
It is also important to call them often, listen to their wise advice and respect them when they want to participate in religious ceremonies.
5. Don't be arrogant
Whether as individuals or as religious, it is important to push away arrogance.
Must learn to listen, forgive, and know how to obey the advice given by an elder, an Ifá or Osha priest, godfathers and godmothers, our Egguns, Oshas and Orishas.
Respect in the Yoruba religion is the basis for all evolution and spiritual growth.
6. Promote religiosity and understanding
It is important learn to interact, to communicate without shouting or arguing, disrespect or impositions, empathy and love must always prevail.
An good relationship between religious it will help us resolve differences and iron out rough edges, allowing our religious brotherhood to grow.
7. Forbidden to forget that religion is not a fashion
Always remember that only those who have a path to Ifá should do Ifá, not for money or fashion. Religion is not a trade, although it has now been discredited, this is not correct.
Let's not forget that Ifá is love, energy and universe, it is the ancestral force that saves lives and carries the ailments of human beings as its own.
8. Take care of peace on our way
The tranquility that we hope we will obtain this year, but through our own head, transforming us internally both on a psychic and spiritual level.
It is a year to be analyzed and maintain an affable and calm character, without peace we will not achieve our purposes, however simple they may seem they will vanish.
9. It is very important to comply with the Ebbó
The Ebbóses (offerings and cleanings) are fundamental this year and must accompanyañarse of ministers
But neither can we forget that the most important ebbó that exists is that of our conduct, if we are good religious our astral will open the right paths for us. read some of our rituals and offerings (click here)
10. Check health regularly
It is important take care of our body because problems of:
Respiratory system,
venereal diseases,
cardiovascular, skin, stomach, and blood vessel problems.
It is essential to continue to be careful and maintain correct sanitary conditions, always taking care of ourselves and those around us.
11. Comply with our Itá, the guide in our life
This is a year in which we must Keep in mind our Itá de Osha, the warnings, advice and recommendations of our Orishas are vital to find the I will go and drive away osogbos.
It is a good opportunity for recapitulate our actions and take out our notebook and read all its advice and prohibitions in order to achieve our future away from evil.
12. Perform the Obi in its entirety.
as religious we must take into account that throwing the coconut It may seem simple, but it is complex and hides many meanings. Wisdom is needed to share this gift from good.
Remember that depending on how the coconut falls, its response varies, it is important to decipher the messages wisely so as not to confuse the paths of others.
13. Cultivate patience and good character
Patience is the art of knowing how to wait and it is a necessary and vital posture in our lives.
This year, if you still do not have patience, I recommend that you learn to have it because it depends a lot on it to achieve your goals, along with the alignment of your thoughts and your good character in situations.
14. Respect our freedom
We must never let them enslave us, nor be tied against our will under any circumstances, we are all equal and have the same rights.
For example, in religion, it is one thing to consult doubts with our elders, to owe them respect and obedience and another is that they do not allow us to develop in the Osha or that they stop our projects.
15. Let's be realistic and ask the Oshas with faith
It is opportune to leave the whims aside, For example, it is not about longing for a house when we do not even have the money to get it, first we must beg the deities to grant us a job and development, and then from abundance set more concrete goals.
This is a year in which we cannot live mirages, nor be in the clouds, otherwise we will not achieve our life purposes.
We must focus on what we can achieve, For this, we fix our commitment on what by destiny we can achieve.
16. We must stop the wars between godparents and godchildren
Let us remember that a godson is a "son of stone" and that we owe them, and that a godfather or godmother are ours "fathers of stone or Osha" and we must respect them with humility.
So let us try to maintain peace among all so that tranquility and spiritual evolution prevail in our religious houses.
I sincerely hope that these tips help us this 2023 and give us much wisdom for years to come. Blessings.
I share other beautiful advice for the religious of the world:
Most read content: