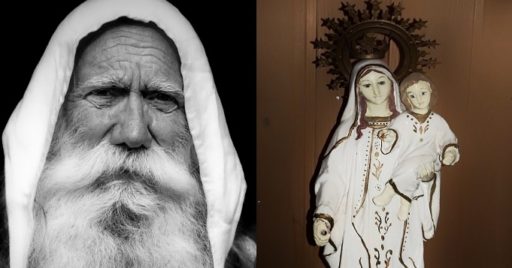 Today, the 24th, we celebrate obbatala, father of all the children on Earth and to the merciful Virgin of the Mercedes, who unite in eternal Creole syncretism, forming a single powerful cult that finds numerous followers in all corners of Cuba.
On September 24, white color prevails in all corners of this Island, especially at the doors of the Church of Our Lady of Mercy located on Cuba and Merced streets, in Old Havana to pay homage to both deities and plead its blessings through the purity that this much adored color contains.
Obbatalá, father Orisha and the Virgin of Las Mercedes, the patron saint of the prisoners, in the Rule of Osha, are also paid homage on the altars of the houses, with touches, with offerings, candles and flowers, all white mixed in a celebration of much devotion, faith and solidarity.
September 24 from home
Despite the fact that every September 24, it is customary among Cubans to celebrate the day of the Virgen de las Mercedes, and the Orisha Obatalá, praying to them for peace, prosperity and freedom in the Church of Our Lady of Mercy in La Old Havana and other religious temples in the different provinces of the country, this year the celebration will be different.
The Covid 19 pandemic that plagues the world and the measures to confront the disease through social isolation, makes it impossible for Cubans to gather in Yoruba churches or temple houses to celebrate their deities, because it is necessary to avoid further contagion and spread of the disease.
What can we do to entertain Father Orisha and the Merciful Virgin?
Let us pray to Obbatalá and the Virgen de las Mercedes from our homes, let us fill our houses with white and thank them for their eternal blessings.
To Obbatalá, we can dedicate an altar made with humility and in gratitude for the blessings he gives us.
The altar dedicated to the Orisha father must be of his representative color, white, and cleanliness and order must prevail.
We can fill the images or representations of the deities with white gladioli, their favorite flower, which symbolizes strength of character, fidelity and honor, in addition to the purity of the white color itself.
We can also light candles to pray to them and tell them about our joys and sorrows.
We can offer them their favorite food, drink, candles, omiero, sculptures and many other elements destined to commemorate the date, always from the depths of our hearts and taking into account that, although this September 24 is different, not for that reason Saints will cease to receive our most heartfelt homage.
Most read content: