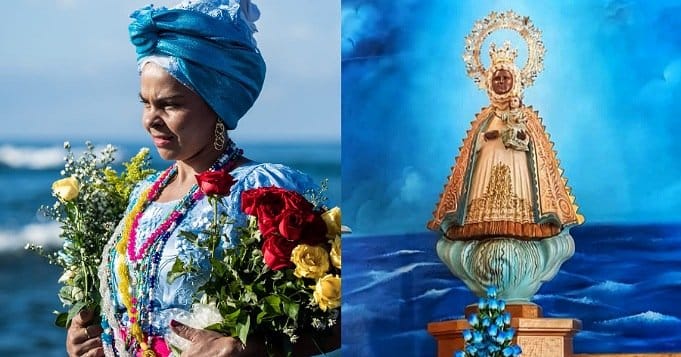 Yemaya, the queen of the waters, syncretized in the Virgin of Regla in the Catholic religion, has been one of the most revered deities by the Cuban people throughout the centuries, in eternal recognition of the ancestral African roots present in our land.
Our patron saint festivities of Our Lady of Regla are a clear example of the devotion of Cubans to the patron saint of the sea, because the small temple that is the Sanctuary of the Virgin of ReglaThousands of people arrive, islanders and even foreigners who also wish to celebrate and worship the deity.
It is difficult to spot anyone in the crowd who does not wear the colors blue and white, symbols of Yemayá. And many are those who leave offerings to the bay, showing their loyalty and devotion and imploring their protection.
Festivities, culture and heritage
The day that the Virgin of Regla is celebrated is a sacred and very special date for all the faithful devotees.
At present, every September 7, Havanans and Cubans in general from all over the country, residents inside and outside the Island, and people of all ideologies and races, come together to go to their sanctuary and attend the patron saint festivities of our Lady of the seas in his honor.
On the 8th the procession takes place where the Virgin with all her ornaments, Catholic priests and other ministers of the church participate.
The day of the Virgin of Regla, in the parties in honor of the Virgin, the habitaBefore the municipality and Cuba, they celebrate the patron saint who protects that overseas territory, also venerating the Orisha of the salty waters of the world, Yemayá.
Therefore, they sing religious songs and pray for what they most long for.
It is also a day to fulfill the promises made to the Virgin and to thank her from the bay and with our eyes fixed on the blue of the waters.
Patron Saint festivities of Our Lady of Regla, from Cuban history
Our patron saint festivities of Our Lady of Regla They constitute a patronal tradition, which has been carried out since September 8, 1696, when the current image of the Virgin of Regla was located in the Sanctuary.
The festivities are full of traditions, heritage values ​​and a magical charm caused by a crowd in shades of blue and white, matching the waters that surround the town.
They run from September 6 to 9 and include all kinds of artistic and cultural entertainment also with Afro-Cuban roots such as typical dances, music and folk rites.
About our Virgin of Regla-Yemayá, you might also be interested in:
Most read content: