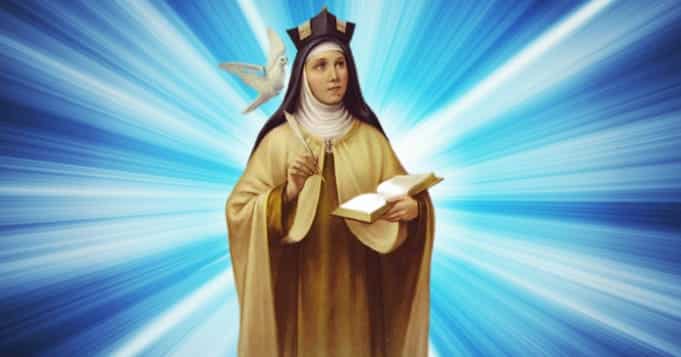 Every October 15 We remember and celebrate the day of Saint Teresa of Jesus, a saint who always lived supported by her gigantic faith and trust, strongly entrenched in her heart, which overflowed with love for Christ.
Her name was Teresa de Cepeda y Ahumada, and she was born in Ávila in 1515.
Who was Saint Teresa of Jesus?
Saint Teresa of Jesus was a reformer of Carmel starting in 1562, Mother of the Order of the Discalced Carmelites.
Serves as patron saint of Spanish writers.
She has the title of "Mater Spiritualium" (Mother of Spirituality), as written on a statue in honor of this Saint in the Vatican Basilica.
She was proclaimed a Doctor of the Church in 1970, by Pope Paul VI, being the first woman to receive such an appointment.
Saint Teresa of Jesus worked great miracles, which is why in 1614 she was declared Blessed and in 1622 she was canonized by Gregory XV.
Literary publications of Saint Teresa of Jesus
She was esteemed as a spiritual visionary teacher and rector of knowledge.
Santa Teresa transfers her mystical or spiritual knowledge to her books, which emerged while she was ill.
He published books like:
"Interior dwellings or castle" (details the evolution that the soul goes through to join the divine)
"Way of perfection" (based on advice to grow and reflect on life from within our souls and help others in their religious life)
"Thoughts on the love of God" (Christian phrases and poems towards God)
Another five more titles and about 500 letters.
Best-known phrases of the Saint
This miraculous saint has many phrases and all of them beautiful, among the best known I will cite three:
Nothing disturbs you, nothing scares you. Everything passes. God does not change. The patience reach everything. Whoever has God, lacks nothing. God alone is sufficient.
Teresa, without the grace of God, is a poor woman; with the grace of God, she a force; with the grace of God and a lot of money, a power.
I live without living in myself and such a high life, I hope it dies because I don't die.
Why is his day celebrated on October 15?
The life of this Saint is full of miracles and prodigious events.
During his life he had mystical states where he was disconnected from his surroundings while having long conversations with Jesus, his divine inspirations, and the miracles after his death were examples of this.
Saint Teresa of Jesus dies on October 4 (the Gregorian calendar was put into effect) of 1582 and was buried 24 hours later, but by the new calendar (where the 11 days accumulated in previous centuries were eliminated), it would be October 15, the day she was buried.
When do we invoke the power of the Saint?
As long as we keep faith alive and constant, we can ask her for what we need, she is a faithful intercessor before God.
It helps us to receive justice as well as to be righteous.
To Saint Teresa of Jesus sand invokes him a lot for:
Being able to meditate and concentrate,
practice studying and writing,
give peace to those who suffer from insomnia and nightmares,
provide intelligence to those who undertake businesses,
give wisdom to those who do not find a way to overcome obstacles,
cure diseases or when suffering from spiritual weakening.
How can we honor Santa Teresa on her day?
As long as we have faith in Santa Teresa we are already offering her our greatest offering, but if we can on her day we offer her:
Red roses,
candles,
incense,
myrrh, and
a lot of praying
Prayer to Saint Teresa of Jesus to ask for protection, ask for justice and be fair
Before praying, choose a moment alone, in tranquility, to connect from the heart with the spirituality and energy of the saint.
Saint Teresa of Jesus, you are in heaven with Jesus Christ. Simple and judicious patron, listen to me, mother!
I need your sense and inspiration, so as not to change my behavior with arrogance and mistakes that harm those I love and respect.
You, who hear my plea,
You, who hear my prayers,
you who bless me
You, who free me from all the bad
Come! And go immediately! I need you!
I need justice to be present in my mind, poise in my heart and harmony in my spirit.
Assist me mother, and touch my soul with your divine current, so that I can be right on the path that I have to travel.
May your blessing always reach me, accompany me and help me.
Amen
We share more content about Saint Teresa of Jesus:
Most read content: