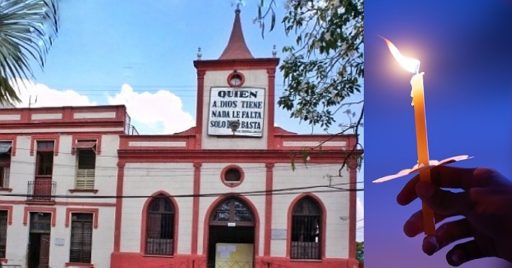 Many devotees arrive to pray with a rosary in hand. Church of Our Lady of the Rosary, located in Palma Soriano, Santiago de Cuba.
From her, and in divine trust, the Cubans ask for her protection and grace. The prayers include getting rid of sins and germinating virtues, reaching fullness and good luck.
Our Lady of the Rosary, is syncretized in the Afro-Cuban culture with Dadá Obañeñe, the Orisha of newborns, especially those born with curly hair. A pampering deity with children in her care and a symbol of affluence and prosperity.
In Dada, the devotees of the Yoruba religion also implore for protection for their little ones, for abundance and infinite grace.
Worship of Our Lady of the Rosary
On October 24, 1821, the decree of erection of the Church "Our Lady of the Rosary"", which was first in the Martí Park and then moved to its current location, due to the large number of people who, since then, came to pray to the Virgin and implore her blessings.
La Church it is a witness to the visit of many Cubans and even foreign visitors, as it is one of the most beautiful examples of neoclassical architecture in the Santiago de Cuba province.
In the temple, the miracles of the Virgin are related and those devoted to the Yoruba religion also venerate the Orisha, in an immense expression of the syncretism that characterizes the Island.
A temple that shelters faith
Usually, large numbers of visitors come to implore the blessings of Our Lady of the Rosary and carry rosaries, candles and flowers that they place around the Virgin.
Some carry their little babies for the Virgin to unfold over him, her mantle of blessings.
But never was there so much influx in the Church of Our Lady of the Rosary as in 2013, when the celebration for the 200 years of its foundation was held.
On that day, not only was a space mass presided over by Bishop Monsignor Dionisio, but numerous cultural and religious activities were held in honor of the Virgin Protectress.
Most read content: