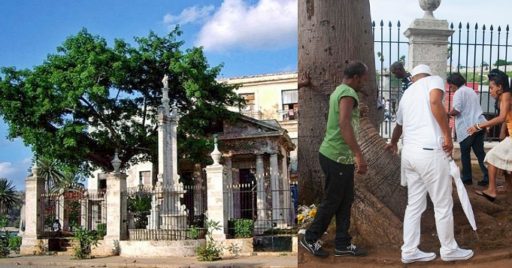 Ceiba It is an important mystical representation for the Yoruba religion in Cuba and it is also a sacred and blessed tree.
Many neighborhoods and towns in Havana owe their name due to the existence of one of those immense hundred-year-old trees, at the foot of which they pay tribute, perform ceremonies and deposit offerings.
We can say that the most famous of this species in Cuba is the Ceiba of the Templete, located in the Plaza de Armas, in the exact place where legend has it, San Cristóbal de La Habana was formed in 1519, and where the first mass and the first town hall were officiated.
Deep devotion to the Ceiba del Templete
The tradition and the worship of the tree make that each year, residents of the capital and visitors turn it around while throwing coins and placing their hand on the trunk or hugging it, to make wishes.
Believers, practitioners and any Cuban whose own identity exudes syncretism, wishes at the foot of the Havana ceiba tree, health and prosperity for your family and friends.
The most important dates to surround the tree and ask for blessings, according to this centuries-old custom, are the eve of November 16, the day of the founding of Havana, and then, to wait for the New Year.
At 500 years, the Ceiba del Templete is a symbol of Havana
On November 16, 2019, the 500th anniversary of the founding of Havana was celebrated, and they gathered around the Ceiba del Temple, hundreds of people who asked not only for prosperity for their family, but also for the city that has been blessed by the gods for 5 centuries.
Some left coins or other religious objects at the foot of the blessed tree, and hugged and kissed it in gratitude to the spirits that, according to legend, habitain the ceiba tree
However, due to the ravages of the years, the Ceiba del Temple It is no longer the same that existed there in the XNUMXth century.
She lived for around 130 years, being a spiritual witness to the desires, joys and sorrows of Havanans of all times, a depository of offerings and hopes.
Most read content: