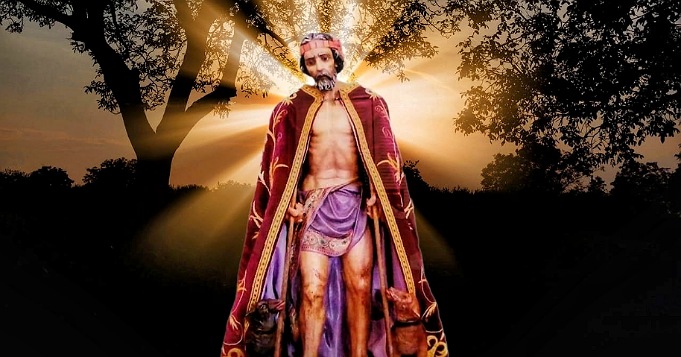 It is Saint Lazarus, an immensely powerful saint, the secret of its blessing is the faith with which the prayers are raised before its altar.
The prayers are the best gratitude and the maximum show of devotion towards the saints.
Saint Lazarus is revered around the world for his miracles in taking away illness and misery and for dispensing justice.
He is the patron saint of the poor, the miserable, the sick and dogs. That is why he is asked for economic well-being, the cure of diseases and the protection of animals that need healing.
It is related to wealth and the protection of the poor and disadvantaged, which is why many faithful give him coins when asking for economic well-being.
The cult of the old Lázaro in Santería also joins that of the Orisha Babalú Ayé, the Yoruba deity that is the owner of all the diseases of the human being.
Let's pray to Saint Lazarus for economic well-being and prosperity
Miraculous Saint Lazarus is known as Patron of the Poor, so he is also asked to be generous in matters of money and economy.
Many devotees carry offerings of great value to deliver them on their day, as thanks for the prosperity granted.
But there are also miraculous prayers that can be prayed any day and any time we need his divine favor, regardless of our requests.
We must pray with faith and devotion, showing him our need with humility and sincerity.
A prayer made with faith can do everything, so we need to prostrate ourselves before Saint Lazarus and ask him to take poverty away from our house and instead, bring the joy of abundance and prosperity.
Tips to venerate the old man Lázaro
We propose a prayer to Saint Lazarus to ask for prosperity, but first:
You can put a white or purple candle in your name, and in front of your stamp or representation if you have one, you can pray this prayer with faith.
You can also venerate him with simple offerings such as flowers, his favorites are purple, as it is the tone that represents him.
Choose a place of tranquility and peace and next to the image of Saint Lazarus and with this prayer you will see how you find a solution to the problems that distress you.
The prayer of Saint Lazarus that has the power to grant miracles
O blessed Saint Lazarus! patron saint of the poor, the needy and the underprivileged

I come to you to ask you for an immense favor, to you who protect all your children and alleviate their sorrows.

I believe in you, in the name of the Father, the Son and the Holy Spirit and I trust in your infinite mercy

Bless my house with abundance and prosperity

Blessed Saint Lazarus, remove poverty from my life, help me so that I can support my family, to live as true faithful

Allow me to enjoy what I love so much and relieve my suffering for economic needs

Patron of the poor I raise my heart with love to God and I thank you for the miracles received.

Receive my request with compassion and give me grace if it is just and necessary.

Saint Lazarus, thank you for always listening and supporting me., Amen.
If you want to offer to the miraculous Saint Lazarus, know these rituals:
Most read content: