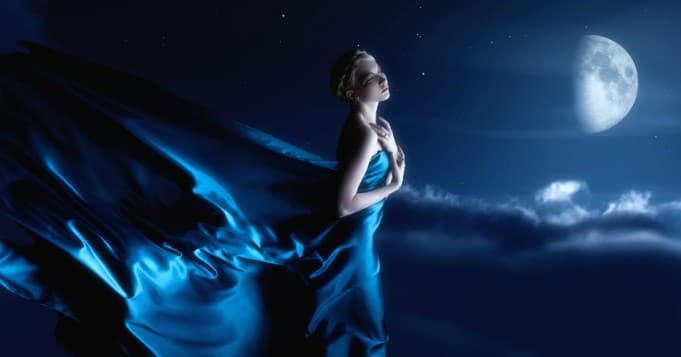 the waning moon, is known under the name of old Moon since it is identical to the visible new Moon, but it appears in the sky in the opposite direction.
A fact that spiritually comes to renew thinking by offering new points of view to human beings.
What spiritual significance does the Waning Moon have?
The old moon materializes:
Wisdom, a virtue that flourishes in man mediated by the accumulation of experiences.
Phenomenon that almost always comes withañafrom the presence of the mature years, time that helps the individual to reflect on his goals and that in the long term ends up leading him towards the path to which he was destined.
the waning moon It is best seen at dawn or dusk, extreme and totally different moments of the day.
The first enjoys life and marks the beginning of new hours,
while with the arrival of the second the sun hides, giving way to the moon reigning over the firmament, causing the 24-hour cycle to die.
The secrets of the Waning Moon and its similarity with the guadaña
The waning moon has the appearance of a small guadaña, an agricultural element that has been associated with death since ancient times.
Through this simile we can determine that:
This lunar phase will bring changes to our lives, events in which the surprise factor will prevail.
the guardaña It has served the peasant to attend to his crops, so we can infer that with the arrival of the old moon man will fertilize his crops, making his way from the field in which he works.
In this lunar cycle the plans are still in expansion, which conditions that they may be subject to changes.
In the waning moon nothing can be taken for granted, the human being cannot be closed to new opportunities, because in new beginnings he will be able to find his fortune.
This moon will bring us the possibility of settling pending accounts
The moon will bring us the possibility of coming face to face with the past, in order to settle accounts with it and convince ourselves if the decisions we have made are correct.
It will invite us to reflect on our actions.
The presence of cosmic energy will be the perfect engine to boost unfinished projects and give encouragement to those who feel that they have lost their way a bit.
The next waning moon this January 2022
| | |
| --- | --- |
| Fourth Waning | 24/01/2022 |
The moon reaches its phase last quarter this 24 de Enero Part 2022, moment in which we will be able to appreciate the satellite both at night and during the day.
Important fact:
The waning moon is exactly the interval between the full moon and the new moon.
Although the best known is the last quarter phase, the moon is in a "waning phase" from when it is illuminated in a percentage less than 100% until it is illuminated at 0%.
Learn more about the Spiritual Power of the Stars:
Most read content: