The Mighty Hand explicitly represents the power of faith in the creator and his miracles.
Concerning this act, a myriad of representations have arisen by scholars and artists that visually and artistically bring religious people closer to the power of God.
Others find the power of the holy hand through prayer, a prayer they use to avoid danger and find comfort in the Christian faith.
Its materialization arises from the extension of the Hand of Christ from which sprout:
Saint Joaquin,
Saint Ana,
Saint Joseph,
the Virgin Mary and
Jesus himself.
The Mighty Hand and its meaning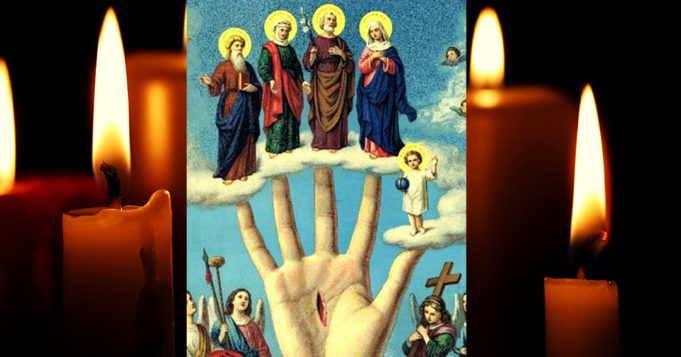 The image that gives rise to the invocations It represents the power of faith and the strength of convictions, ideas on which the human being affirms himself to sustain himself in the trials of life.
There are certain speculations that point to the worship of the mighty hand as a representation Pagan, a fact that has brought the discontent of many sectors of society that assure and appreciate the veracity of his miracles.
Through the invocation of the mighty hand:
The religious begs for protection, health, harmony and help in the fulfillment of some special request.
Fact that is often subject to the resolution of family problems, where several members of the same family ask for the healing of a loved one.
To ward off evil and against enemies is this prayer to the Mighty Hand
In the name of Almighty God, I ask you heavenly authority so that when I post this prayer behind the front door of my home, I remove all my enemies and that the evil they want to do to me, may it evaporate into infinite space, because I wrong to no one does and may Almighty God bless my home and may our daily bread never fail us.

May God remove all bad thoughts, hatred and evil from us, since I do not wish anyone badly.

From today in our house harmony and the lavished by our sublime God who thinks everything and conquers everything will reign.
An Prayer to the Powerful Hand to make a request
May your powerful hand hold me when sadness and pain besiege me.

Put in my path the best opportunities and everything that can build my life.

May your powerful hand sustain me in health, work and prosperity.

Especially attend the request that I make (place the order) Amen.
Saints who always protect and protect us:
Most read content: