Who does not feel relaxed after drinking a large glass of chamomile tea or decoction?
And it is that there are many healers who advise that an infusion of the plant before sleeping, will relieve daily stress and improve our digestion.
The use of chamomile is very old, especially in the form of an infusion. Today the tea from this plant has become one of the most consumed for its soothing and digestive properties.
Chamomile is a herbaceous plant that can reach 60 centimeters in height, native to the Balkan area, North Africa and Western Asia, although it is currently cultivated in many countries of the world.
It is believed that the interest in it arose due to its intense aroma and thus the different properties that made it so famous were investigated.
Chamomile and spirituality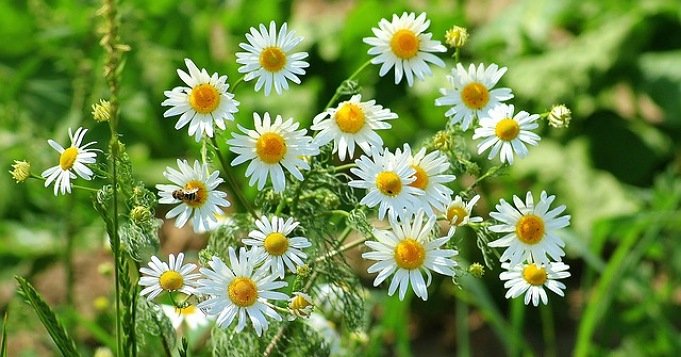 Chamomile is an essential plant for spells, incantations and magical rituals in some religions, including the Santeria.
Above all, it is associated with the Yoruba Goddess of Love and Rivers, Oshun, so it is used in spiritual baths to communicate with the deity and ask for love and prosperity, fundamentally.
Chamomile is used especially to attract money, luck in games of chance, and true love, which is why it is widely used in ceremonies and in the performance of omiero.
Baths with chamomile for good luck with cinnamon and honey:
Baths with this magical plant are purifying and renewing.
We can put a little water in a container where we will mix the ingredients of the bath.
Let us carefully choose the chamomile flowers, which are fresh and beautiful, avoid picking up the withered ones.
Añawe will say then in the water, the flowers, cascarilla and Florida water and with our hand we will mix everything delicately at the same time we ask for what we want.
You can also añaSay a splash of honey and sprinkle cinnamon if you want to attract abundance, love and prosperity.
After taking your bath as every day, you will pour the prepared water, while you do it, visualize what you want and make your request with love.
This bath can be done several times a week, remember to clean the shower after doing the ritual.
Other spiritual uses of this plant:
It is a purifying and protective herb, which is why many plant it in their homes in order to ward off negative energies.
It is used in incenses to promote sleep and meditation.
To activate your protective gift it is good to plant it around the house, or have it near doors and windows, thus protecting the home from bad influences.
It works as a charm, you can place it in your hair, in a bag or in your pocket to attract good fortune.
It is related to money, work and the effort to possess abundance.
It generates stability, relieves stress and allows to maintain a spiritual balance.
Baths with this magical plant are very effective in love situations, or where love needs to be attracted in general.
Medicinal uses and healing properties of chamomile
Chamomile or chamomile, as it is also known, is a medicinal plant that has very beneficial properties for human health.
Some of the healing properties of chamomile are for example:
It helps a good digestion. Chamomile tea can even relieve an upset stomach and speed up digestion.
Calms and reduces anxiety. An infusion of chamomile can calm our nerves in situations in which we are a little upset and also helps us fall asleep.
It reduces stress. Chamomile calms the nervous system, which helps us to better cope with tense situations.
Control diabetes. An infusion of chamomile is highly recommended for those who suffer from metabolic diseases, such as diabetes, as the plant can control the glycemic index.
Strengthens the immune system. Chamomile is able to reduce infections of the digestive tract and benefit the intestinal flora.
For the treatment of wounds. Chamomile helps protect cells from external damage and prevents the skin from becoming infected odañar with inflammatory processes.
Relieves menstrual cramps. Its anti-inflammatory and analgesic effect makes this plant also help reduce the pain caused by the appearance of the rule.
How to prepare a chamomile infusion?
Chamomile infusion It is very easy to do, we only need dried flowers of the plant or we can buy it in already prepared bags.
We boil a glass of water and put two teaspoons of chamomile flowers in it. Cover it and let it rest for 10 minutes. Then we remove the flowers and drink the infusion liquid.
We do the same with the prepared sachet, we immerse it in boiling water for about 10 minutes. We then remove the bag and drink the resulting tea.
Very beautiful and effective spiritual baths:
Most read content: