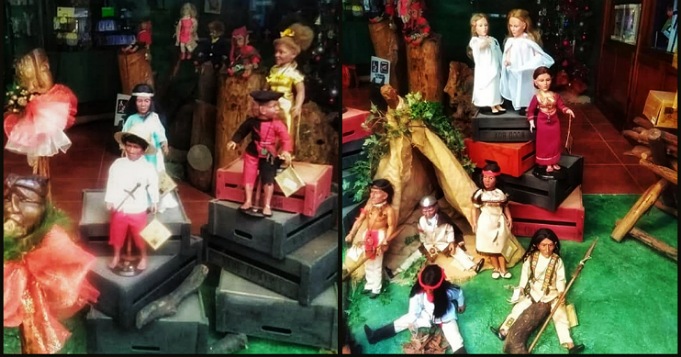 The Havana Historian's Office is pleased to welcome a small shop where elves and mythological creatures reign in Mercaderes street, which belongs to the historic center of the city.
This small enclosure houses an inestimable value of magic and dreams, because every day many people come to the place to take with them a little bit of charm and hope.
Toys are not sold but magic dolls
In the enclosure habitan different beings that are marketed to the public, clarifying the premise that they are not toys but energetic dolls, since each one is identified by a quartz stone, a mineral that has, among many virtues, the retention of positive energy.
In addition to these, the interested party is offered a wide range of oils, incense, quartz and other materials related to dolls and magic.
The store is the sixth in the world and the only one in the country
The legendary dolls store is one of six that take place around the world, being the only one of its kind in the country.
The dolls are manufactured and are provided to the enclosure from España.
Among the dolls the Orishas are also represented
Its creator Pep Catalá wanted to reflect in the dolls a large part of the Nordic legends giving life in them to elves, witches, fairies, wizards, he also flashed Native American Indians, Orishas, animals and beings from other mythologies.
The dolls sold in this store are given to loved ones as special gifts, as most buyers refer to it, who seek to give their friends and family a kind of ancestral luck to accompany them offering protection.
Some curiosities of the Legend Dolls in Havana
Each doll has its own name and a story, in the same way that a little notebook that is attached to the box in which they are shipped, recounts their powers and the appropriate way to care for them so that they feel happy in their new home.
The book states that when the doll changes color or simply falls from where it was placed, they are signs that it does not like its location and must be moved.
Others consider these signals to also be warnings that something is about to happen.
With these creatures you must talk, be gentle and establish an affective bond so that the energy of the owner and that of the doll can connect.
Why is it forbidden to take photos in the store?
One of the peculiarities that draws the attention of the visitor regarding the store is that the dolls are not allowed to be photographed.
Mystery that no matter how much those in charge of the enclosure have been questioned, they have not wanted to reveal.
Curious people have contributed the idea that it is forbidden to do so, since this action would reduce the energy of the dolls, a theory that has not been confirmed.
Store Address: Calle Mercaderes, between O'Reilly and Empedrado. Old Havana. Cuba.
Meet some Religious and Spiritual Representations:
Most read content: