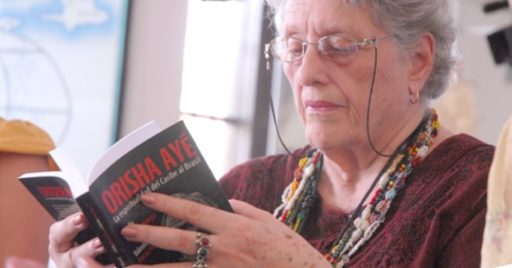 It descended from Simón Bolívar himself and hence his desire to liberate the true identity of Latin America from culture.
Natalia is not only a writer, anthropologist and ethnologist with an outstanding path within Cuban culture, but she is a religious at heart, who defends her ancestors and her Orishas, ​​her multicolored religious necklaces are present, wherever she goes.
Natalia Bolivar Arostegui, was born in the City of Havana on September 16, 1934 into a family of the Havana aristocracy.
She was always an active participant in cultural processes, as her family taught her since she was little, the importance of developing a rich inner life.
He graduated with a Bachelor of Science and Letters from the Sacred Heart of Jesus and at San Alejandro he studied painting and sculpture.
And after a time that made her love truly Cuban culture more and more, at the National Museum of Fine Arts of Cuba, she took charge of the Cuban Ethnology room and studied with Dr. Fernando Ortiz himself, Research Methodology , Ethnography and Afro-Cuban Ethnography.
Natalia Bolívar and Fernando Ortiz, discoverers of Afro-Cuban rootss
Natalia Bolivar He followed Fernando Ortiz's hand in his studies in Ethnology and Folklore, in the 50's and in the middle of the fight against Batista in Cuba.
He never abandoned his eagerness to discover and spread Cuban history and its deepest roots, always intertwined with the African continent.
After spending years in hiding supporting the rebel cause, with the revolutionary triumph, Bolívar She was appointed director of the Palace of Fine Arts and later went on to direct and organize the Numismatic Museum of the National Bank of Cuba.
Natalia and the Yoruba religion
Reading Natalia is traveling back in time, it is acknowledging that our roots are still alive, it is remembering how many "African nannies" raised us, and how much black blood we carry in our veins.
Natalia has dedicated her life to finding out where we come from, and as religious, we must be grateful for such an immense gift to our culture, our religion and our faith.
The craving for Natalia Bolivar for studying Afro-Cuban culture and yoruba religion, led her to publish in 1987 and 1988 articles in the fixed section "Afro-Cuban Folklore" of the Venezuelan magazine Cábala and in 1989 she printed her first book "Los Orishas en Cuba", a publication of extreme value and one of the Major research on Afro-Cuban roots.
In 1990 he also published in La Gaceta de Cuba his article "De Orixas y Orishas. Brazil and Cuba, a single ethnic root", on the syncretism in both Latin American nations and in 1991 "Ituto: death in Afro-Cuban mythology and religious syncretism".
In 1992 he gave a famous conference at the I Cuban Cynology Symposium, on "The Orishas and the dogs" and in 1993 the Editorial Social Sciences published "Myths and Legends of Afro-Cuban food" co-authored with Carmen González Díaz de Villegas.
He also participated in the "Wemilere" African Roots Music and Dance Festival held in Guanabacoa and gave lectures on Afro-Cuban culture in numerous countries around the world.
Tireless researcher and revealer of the mythical Yoruba religion in Latin America, Natalia Bolivar Arostegui She is the author of numerous works that include books, scientific essays, among others.
Most read content: