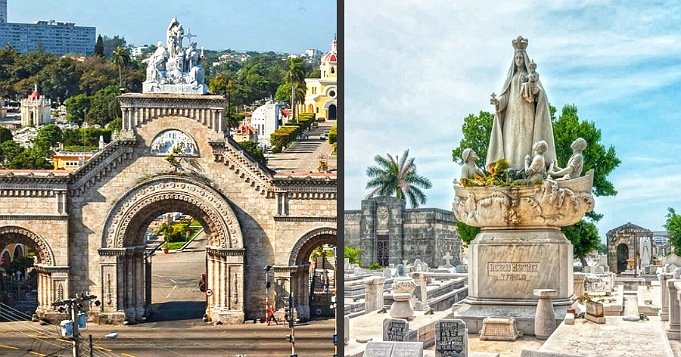 Within the ancient funerary customs of the Greater Antilles was the tradition of burying the deceased inside the churches, then the rite was extended to the interior courtyards of the house of the Lord and later to places surrounding the construction .
Tradition that was reserved only for the highest economic strata of society, who at the cost of high tariffs wanted to leave for a better world together.añatwo of the direct presence of the redeemer.
It was not until 1812 that this mortuary practice ceased on the Island and with this the first sanitary norms based on epidemiological foundations began to be unconsciously predicted.
Statutes that remain present to this day and that have contributed to reducing the number of infectious contagious diseases in the country since then.
In February 1806, at the initiative of Tomás Romay and the Bishop of Espada, the country's first public cemetery known as the Espada Cemetery was inaugurated.
Years later, due to capacity and remodeling issues, this cemetery was replaced by the Cristóbal Colón Necropolis.
Which opened its doors in July 1886 after fifteen years of construction and completion of details, becoming since then the largest and most important cemetery on the Caribbean island.
The Colón Cemetery: Witness of faith and miracles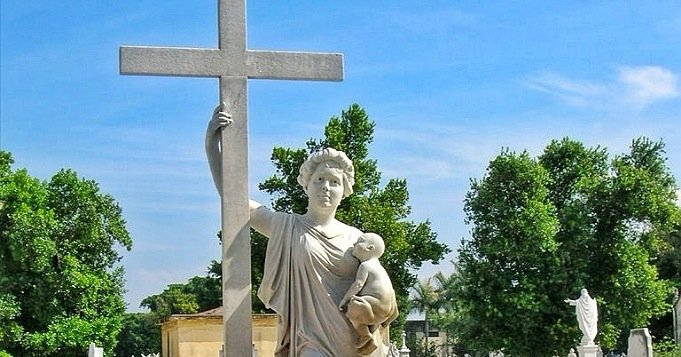 On the floor of the Christopher Columbus Necropolis lie the mortal remains of many brave men and women in our history.
Many of the deceased who remain there have been protagonists of multiple legends of miracles and apparitions that the popular cult has not allowed to remain anonymous.
For this reason some of the tombs of the Necropolis are currently worshiped with great devotion by thousands of people who pray with devotion for acts of faith.
As an example from this we can quote:
The Three Virtues: Faith, Hope and Charity.
Sculpted in white Carrara marble, the three virtues are considered the guardians of the main entrance to the Christopher Columbus Necropolis.
They are Faith, Charity and Hope the witnesses who have silently witnessed the entrance to the cemetery of numerous funeral processions.
It is curious to observe a great similarity between the three virtues and the three Orishas that watch over the entrance to the realm of the dead in the Yoruba Religion, which are Oyá, Yewa and Obba.
Those that remain united in an inseparable trio, while the religious pay tribute to him and place offerings at his feet that remain at the door of Columbus.
Some articles about the death queens of the Yoruba pantheon:
Most read content: