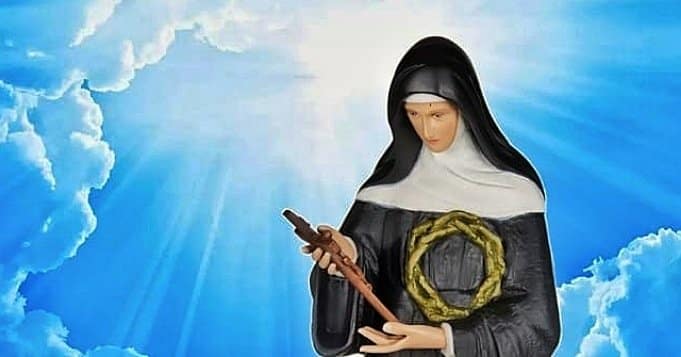 To Saint Rita of Casia, she is known as 'The saint of the impossible' due to the miraculous cures she worked.
She is one of the most popular saints in the Catholic Church, since it is said that she always goes to the call of her faithful, no matter how difficult her cause may be.
His cult is exceptionally strong in Spain.aña and Latin America, where today devotion is paid to him in many countries.
It is said that after 200 years of the death of Saint Rita, in the monastery of Casia where she lived much of her faith, the white bees rose from the walls every year and remained until the feast of Saint Rita, on May 22. , in honor of the saint.
What can you ask of Saint Rita of Casia? Prayers to the lawyer of the impossible
We prayed a novena to Saint Rita de Casia to ask for her help in need.
Considered the saint of the impossible, many call her in urgent and desperate cases, mainly related to health and the cure of ailments.
Let us ask him to help us in sickness, pain and misfortune, ours or those of our loved ones. When we feel haunted by evil, enemies or injustices.
Let us remember that we must pray to Saint Rita with great faith and showing her the love and humility of our hearts, always asking her to listen to us and help us quickly.
How to pray the novena of Saint Rita?
We can place a white or pink candle, in front of his image and pray to him in a low voice, raising prayers to ask for his support.
Pick a quiet time, where he is not interrupted, and can pray in peace, and deep reflection.
The novena to Saint Rita of Casia is said for nine days in a row. Every day you must say three prayers, which are:
The introductory sentence which is the first,
The second sentence is that of the corresponding day and
the third is the final or closing sentence.
In this way and with great faith we will make 3 prayers a day, and thus we fulfill the novena to Santa Rita, lawyer of the impossible, to help us.
What happens if I interrupt the novena?
If for any reason you skip a day or forget it, you must start over, as these prayers must be for 9 uninterrupted days.
It is recommended do it at the same time of day, for example, if we want to do it in the morningañana, we can do it daily at 8 am every day, or at any time you want, but every day the same.
Another option or shorter way of doing the novena is in a concentrated way, that is, in a single day, once every hour for 9 hours.
If you choose to do it in a single day, it is necessary that you select a day that you are free and without many tasks, so that you can dedicate it to praying the novena.
This is the Novena to Saint Rita of Cassia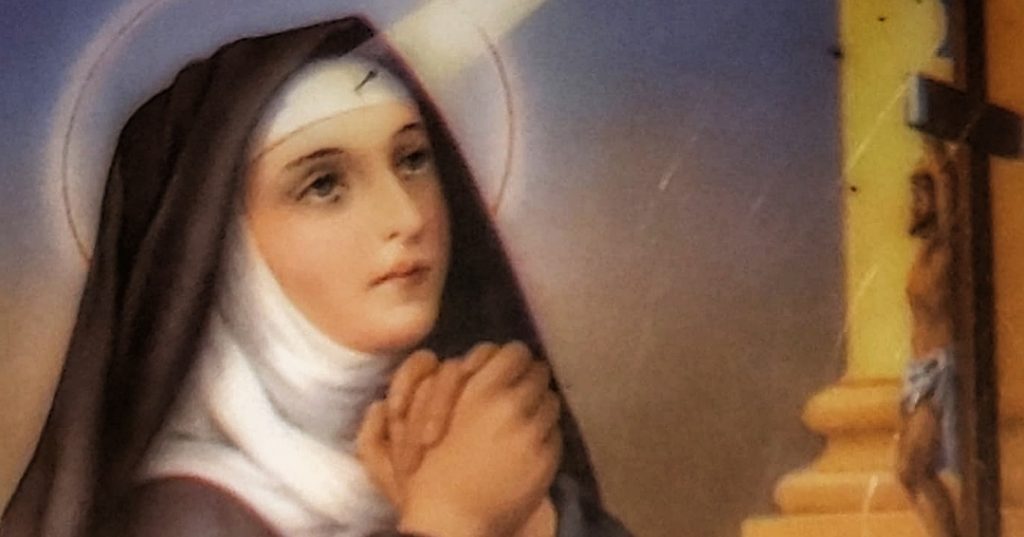 Every day opening prayer
God and our Lord, who, arranging everything with admirable providence, have placed the Saints in your Church so that they may be a constant model of all virtues, and who, calling them to your bosom, have made them our protectors and advocates:

Listen propitiously to the prayers of your servant Saint Rita, who you gave to the world as an exemplar in the different states of life, and grant us that all that our weakness cannot by itself obtain, we may obtain it through her powerful intercession. Amen.
After this initial prayer, the prayer of the corresponding day should be said.
Prayer that is said at the end of every day
Most sweet and most painful Jesus, so that your whole Most Sacred Body would be wounded and tormented by my faults, you wanted your most holy Head to be crowned with thorns, and you deigned to give one of them to your chosen Saint Rita, marking it with this sign and pointing it out in forehead for your Wife:

Grant me, Lord, your intercession; and by the blood that, serving as instruments, the thorns, flowed from your most delicate Head and ran down your beautiful Face, make my soul cleanse and purify itself with it, from the thorns of so many sins as they have mortally wounded it, and Thus watered and purified, bear copious fruits of good works, signaling them with the final perseverance, to which eternal life is promised, where I enjoy and praise you with your crowned Wife, my protector and advocate, and with all the choirs of Saints and Angels that praise and bless you in glory for all eternity. Amen.
Novena to Saint Rita of Cassia Day 1
Shining star of the Church, pearl enshrined in the crown of Augustinian heaven, glorious Saint Rita, whose birth was already a harbinger of future holiness, celebrated by the angels when they announced to your Christian parents the good news that they would give you birth, and admired by men when they contemplate in amazement the stupendous prodigy of that honeycomb of very rich honey carved in your mouth when it opens at the first smile of innocence:

Pity your devotees, and grant us, in return for the steely love that we profess for you, the grace to respond faithfully to the divine callings, so that we may reach eternal glory. Amen.
Novena Day 2: Prayer of the Day
Hail, model of perfect obedience, heroine of self-denial and suffering; hail, mirror of modest youth, of etroubled wives and mothers who know how to love their childrenañayes; Hail, strong woman, who, understanding that obedience is better than sacrifice, renounced the vow of virginity, which flattered you so much, to accept the very heavy Cross of marriage, with all the consequences of a cruel, angry and vice-ridden husband. , whom, like another Monica, you managed to tame and convert with the eloquence of your tears and the effectiveness of your silence.

Have pity, oh incomparable Saint Rita!, On our crazy and neglected youth; relieve the overwhelming weight of so much tribulation, so much gall and so much bitterness as it weighs on the hearts of innocent wives who, like you, have no other consolation than their tears and their silence, and get us all, resignation in our work and strength in adversity to fight valiantly until you reach eternal bliss. Amen.
Novena Day 3: Prayer of the Day
Oh distinguished Saint Rita, a finished example of Christian virtues, who, having violently taken your husband away from us when you began to taste the fruits of the conversion wrought in his soul, thanks to the constant labor of eighteen years of unspeakable suffering, you not only resigned with such a terrible loss, but you interposed your courage in favor of the murderers, and what is more, you collected the death of your children from heaven, fearful that in time that of their dear father would come! Let us just as generously forgive our enemies, so that the Lord may forgive us our offenses. Amen.
Novena Day 4: Prayer of the Day
Oh prodigy of holiness, illustrious Saint Rita, immaculate maiden, unsurpassed wife, excellent mother and blameless widow!

To exalt and sanctify with your influence the perfection of all states of life, you needed to realize the golden dream of your childhood: to wear the religious habit.

What are the obstacles and difficulties that may arise? Your prayers and your tears will smooth everything out, and when that is not enough, God, who watches over you as his favorite daughter, will send from heaven your three holy lawyers, Saint John the Baptist, Saint Augustine and Saint Nicholas of Tolentino, who will help you. They will lead by the hand, like three angels, to the abode of the Lord, for which you sigh so much, where with open arms, and giving thanks to the Most High, you will be received by the observant daughters of the great Augustine.

Grant us the gift of persevering in our good purposes, no matter how serious the temptations and difficulties may be, until we finally come to contemplate him in Glory. Amen.
Novena Day 5: Prayer of the Day
Enlightened daughter of Saint Augustine, who, having achieved your desire to wear her holy habit and girdle her mysterious belt, consecrating yourself totally to God through religious vows, you dedicated yourself to clarify your virtues in the new state, deserving, as a reward for your blind woman obedience, unprecedented mortifications and continuous contemplation of the pains and affronts of the Redeemer; to receive stupendous favors, such as making fragrant roses and tasty fruits sprout and green in the harshest of winter, and, above all, feeling one of the thorns detached from the crown of the Savior stuck in your forehead:

Reach us a perfect obedience to the divine Commandments, and the grace to know how to pray and always keep in mind the Cross and the sufferings of Our Lord Jesus Christ. Amen.
Novena Day 6: Prayer of the Day
For the severe pain and the rigorous isolation that the irrerest provided youañable open wound on your forehead by the glorious stigma of the Cross, obtain for us, oh seraph of Cascia!, that we know how to bear with Christian resignation the weight of the crosses proper to our state, and that, like you, we rejoice in dying for through suffering, crucified with Christ Jesus. Amen.
Novena Day 7: Prayer of the Day
O prodigious Saint Rita, who in the prolonged martyrdom of your life received, along with the ice of all bitterness and all pain, the balm of those consolations that intoxicate and rapture the soul, igniting it in greater desires to suffer for Christ! , to enjoy and reign later with Him!

May the dew of divine consolations fall on our souls in our desolations and dryness of spirit, persevering without fainting in our prayer, so that we do not give up a point in the exercise of pious practices and in the holy service of God. Amen.
Novena Day 8: Prayer of the Day
O most glorious Saint Rita, whose death, similar in everything to your life, was the most tender and moving spectacle that can be witnessed within the cloisters!

What advice and what farewell to yours from those sisters of the soul, who, while envying your death and congratulating themselves on your glorious passage, were melting into rivers of tears!

What a fragrance that began to give off the sore on your forehead! What a sweet look in your eyes! What tender sighs and what a heavenly embrace crowned your precious existence!

For all these wonders we beg you to grant us the grace of final perseverance and a precious death in the eyes of the Lord. Amen.
Novena Day 9: Prayer of the Day
Oh incomparable Saint Rita, who, after having exalted and sanctified with your heroic virtues all the states of life that woman can embrace in this world; As a maiden, mother, widow and nun, leaving in all of them admirable examples to imitate, with your precious death you inaugurated the period of stupendous miracles, which earned you the title of Lawyer of the Impossible, because there was no business, no conflict, no situation, However difficult and desperate it may seem, may it not have an easy and smooth resolution coming to you, of whom it can truly be said that you can do everything, because everything you ask for you get from Him for whom nothing is impossible!

Obtain us, blessed Saint, in return of the love we profess for you, of the sympathies that we feel for you and of the faith and enthusiasm with which we give you the poor gift of this Novena, the grace to fulfill honorably and nobly the duties of our state. , sanctifying ourselves in him and saving us through him, through the merits of Our Lord Jesus Christ. Amen.
Prayers and powerful novenas that you should know:
Most read content: