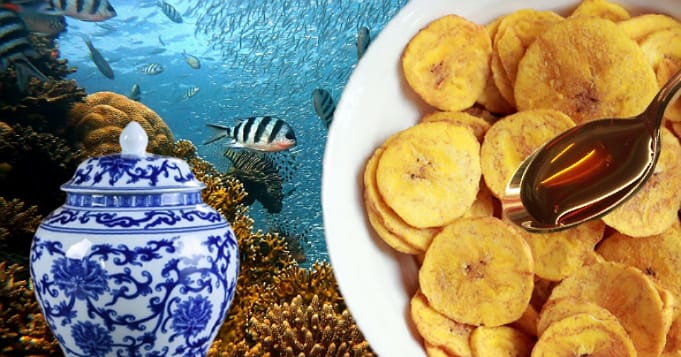 This simple work or ritual in the name of Olokún It will help us to ward off and defeat enemies and overcome obstacles, achieving greater firmness and stability in our lives, let's open paths with this work.
Sometimes it is a bit difficult for us to be well and maintain a balance in our lives, and it is that when faith weakens everything falls down, but it is also true that various factors hinder our path, such as enemies, evil and the bad eyes.
If you are going through one of those moments where your whole life seems like chaos, I recommend this very simple but powerful work at the foot of Olokún.
Why do we entrust ourselves to the power of Olokun?
Olokún in the Yoruba pantheon is the Orisha of the Ocean, owner of the depths of the sea and all its secrets, and from its immensity protects us, giving us above all health and balance.
This deity is said to be androgynous, a being that has both masculine and feminine characteristics, and its power contains many secrets that man has never been able to discover.
Stability, firmness and health It is in the hands of this powerful Orisha, so we entrust ourselves to his energy, to help us get ahead.
Ingredients:
Pork meat to make pork rinds
Green plantains for frying (see the photo in this article)
disposable plate
2 white or blue candles
Butter (you can use the same lard)
molasses of caña
How to prepare this offering for Olokun?
If you do not have Olokun received, but you trust in his power and kindness, you can also perform this ritual on his behalf with great faith.
First we must cut the pork and fry it until we get some pork rinds.
After frying them we will put them on a plate.
Then you cut the green plantains to make chicharritas or mariquitas (fried plantain cut into thin slices).
You heat the butter (it can be the same as the pork rinds) and when it is very hot, start frying the plantains.
When the bananas are golden, take them out and put them on the same plate as the pork rinds.
Then you light the two candles in front of Olokún, ask for his blessing and permission to do that work and talk about what you need to resolve with his permission and grace.
You take the molasses and on top you add it to the plate of pork rinds and plantains.
If you want I'll leave you some tips to know how to talk to Olokun (click here)
What do I do then with this offer to Olokun?
You can have this work with Olokún to ward off enemies and overcome obstacles for 7 to 9 days placed in his name.
You must light the candles every day to beg the deity of the immense sea to help us.
At the end of these days you can take the work to the sea, preferably, because it is the place in nature where habita, or to the mountains, in case you live far away or cannot get close to the ocean.
If you can go to the sea, take a candle and from there converse with its power, connect with the energy of its waters, meditate, breathe, pray to it from the heart with your words what you need and do not forget to thank.
Then put the offering in its waters and imagine that just as the current carries that offering, your problems go away, and they disappear from your life.
May Olokun's blessing accompany you above all with great health and that by doing this ritual whatever you want comes into your life, but remember that you must accept the perfect plan of the orishas in your life, if this does not suit you it will not happen.
Open the doors of your heart and receive your destiny with open arms.
Look at other rituals in the name of Olokun, the great Orisha will help us:
Most read content: