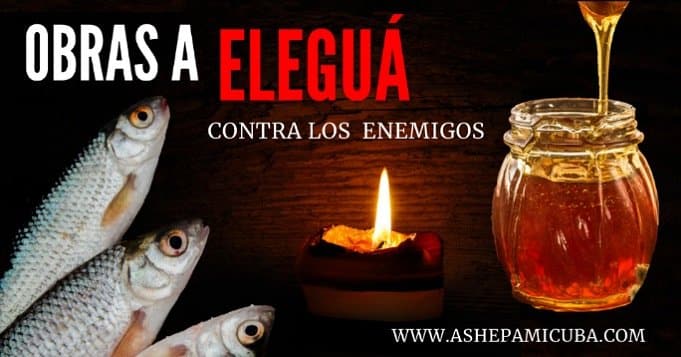 When certain negative energies invade our tranquility we must seek protection, in this post you will find two works to Eleguá to ward off enemies and attract development.
These works are dedicated to Elegua, our divine child, the playful and tricky one, that if you ask him for something with faith and prayers, he will please you as long as it is your way.
Remember: he chooses for you, not you; be patient and learn to accept the paths that are destined for you.
Try this play to the little prince:
1- Very simple work for Eleguá against enemies, envies and evils:
Sometimes we have no reason for the people around us to be envious, but it happens very often.
It is something you should protect yourself from since envy is very powerful and has strong negative energies that can hinder your goals.
Ingredients:
1 dry coconut
A candle
1 white plate
Process:
Place the dried coconut on a white plate in front of Eleguá, if you have not received Eleguá, leave the plate behind the front door of the house.
It will light a candle for three days for a few minutes and on the fourth day the coconut is left in one of the corners of a four-street intersection.
Ask Eleguá to keep enemies, all envy, bad eyes and bad tongues out of your way, so that prosperity can come to your life.
2- Work to Eleguá to attract development and open the good paths:
Important: This work must be at the foot of Eleguá, if you do not have Eleguá you will not be able to do it.
From the ingredients you need:
3 little fish
A white plate
Oñi (honey)
Epo (Corojo butter)
3 whole peppercorns.
3 levers (it is a type of dessert in the form of a bar) could be coconut candy (Eleguá likes it a lot), peanuts, corn or whatever you can make.
1 White candle
What is the procedure that we must carry out?
You take 3 little fish and you will cover them on one side with Oñi (honey) and on the other with Epó (Manteca de corojo).
To each fish in its mouth you will put a pepper.
You will also make 3 crowbars and put them on the same plate, next to each fish.
You beg him for one day with his corresponding candle and the next day you take him to the jungle, or to 4 corners, you should always ask him where he wants to go.
I wish you good luck and that everything you ask in this work may develop with great health and development in your life.
Remember to do it with great spirituality and conviction in the miracles of the little giant Eleguá.
Other powerful works and offerings dedicated to Eleguá:
Most read content: