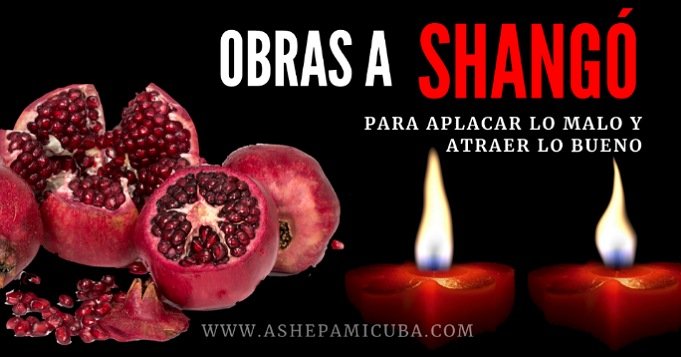 Among the plants that belong to the Orishas in the Yoruba religion, in one of the works you will need "pomegranate" which is one of the fruits of the king of fire: Monkey.
It is a fruit that has many properties and uses, among them it provides health benefits, but also has great religious significance, for example:
always remember: with any fruit that you decide to do a ritual, you should not eat it, that is, at that moment you are doing the work.
In our religion, the offering is the one that the Ashé possesses, therefore in this case luck should not be eaten, because that addimú (offering) that you put is for its development.
Must consider: If you are religious, remember to check the reading of your itá, perhaps it has ewe (prohibition) of some fruits and plants, and in this case you should not try it or do religious work without consulting it first.
This work is dedicated to the Orisha Chango, 6 fruits are used as offerings for 6 days, since the number 6 belongs to this deity.
Important: If you do not have Chango you can also perform these works by invoking Blessed Santa Barbara.
1. Work with Changó to attract Ashé:
Ingredients you need for the work:
6 grenades
Snuff
Dry wine or red wine
Honey
A white plate.
2 red candles
Process:
Shangó puts the 6 pomegranates on a white plate (without cutting them), blows tobacco smoke and dry or red wine on it and puts honey on top.
The offering is left for 6 days at the foot of Shango, if you do not have it you can invoke blessed Santa Barbara.
During those 6 days you should have it lit for a while with its two red candles.
On the sixth day he must take the offering wrapped in a red cloth to a palm.
During the play you should always ask for what you want and do it with great faith and love.
Other simple works that you can do in the name of Shango to bring you much prosperity, abundance and firmness:
2. Work to attract development:
Take a pomegranate and you should hollow it out inside, that is, remove all the pulp (so that it remains more or less like a gourd) and soak corn or lentils in it for 3 days.
As the days go by, that corn will grow and will give him Iré (good path, salvation, benefit) and Ashé (luck and grace) in his life.
3. Work on Shango to untangle the path:
Take a hand of banana, put honey and corojo butter and put it at the foot of Shangó or hanging from the roof of the entrance of your house for 6 days and then leave it in a palm.
This work solves problems and unravels situations in our home.
All the religious works that are done to Shango They serve to pray for health, to ask for love and prosperity, to ward off envy and enemies, to attract economic and spiritual abundance, as long as you do it with faith and your requests are from the heart.
Other works to the Orishas that I recommend:
Most read content: