Let's make our daily bath also a sacred bath with the intervention of Oshún the Orisha owner of the rivers, fertility, beauty and gold.

Oshún is a very loving mother and takes care of her children as long as they are treated with love and delicacy.

On the other hand, if you offend her, she becomes a beast that, laughing, kills even her own children.
Powerful baths that will open paths and good energies with the beautiful Oshún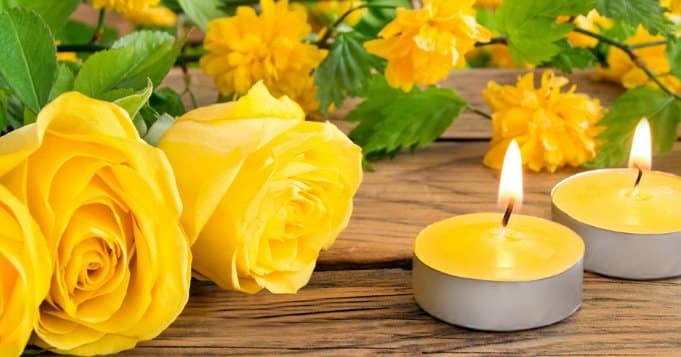 Spiritual baths are always relaxing, but when añaOther ingredients such as plants, perfumed essences, essential oils and other powerful elements loaded with good energy are added, enhance their effect and become ritualized baths.
In today's bathroom we will use beer as the main ingredient Although it may surprise you, it has been used in rituals since ancient times, because beer attracts good vibes to your life and strengthens love unions.

For no reason should you forget your faith and love to make this bath.
Ingredients:
In this ritual you can use the ingredients depending on what you want to obtain, on the other hand, if you use them all you will achieve a good result. Below I will explain the meaning and use of each element.
3 liters of water
Pot or casserole
Basin or container
5 Laurel leaves
Cinnamon stick
3 cups of beer with or without alcohol
5 teaspoons of honey can be flower, rosemary or natural.
3 drops of vinegar
2 yellow candles
We will prepare this powerful bath step by step in the name of Oshún:
First, keep in mind that you will have to do 3 baths and each one must be prepared every day, so make sure you have all the ingredients to use so that the work is carried out without problems.
Pour 3 liters of water into a pot. añaGive 5 bay leaves and a cinnamon stick broken into 5 pieces.
With the laurel You attract luck, it also improves your mood, it is relaxing and prosperous, it is a magical element of great power.

With cinnamon it drives away bad, stimulates good luck and fortune, and also attracts true love.
Then you put it on the fire and let it boil for about 5 minutes.
After this time you put the water to cool and pour the contents into a basin or other container.
Add a cup of beer and vinegar if you wish, and the 5 teaspoons of honey.
The vinegar It is a powerful liquid because it energetically cleanses, purifies and protects from negative vibes.
Honey It is an element that belongs to the goddess Oshún in the Yoruba religion, so powerful that it overcomes obstacles and attracts happiness.
Then you put the container at the foot of Oshún, light the 2 candles and ask for his blessing. If you do not receive the Orisha, you will do so in her name. You can invoke it with the following prayer.
We will do 3 continuous baths for 3 days invoking Oshún:
ImportantWhen you light the candles, you first thank them, you give them knowledge of what you are going to do and what ingredients you use in this ritual.
There will be 3 ritual baths that we must do and we must always keep the candles lit while we shower.
The baths will be from the shoulders down, respecting the head and letting that water dry on the body, so that the essence of the elements is impregnated and acts in a positive way.
After each shower, I recommend wearing white or light-colored clothing and don't forget to clean the shower.
I sincerely hope that when you do these works for Oshún, the goddess will bless you with health, love and steadfastness.
Always ask for the good, that our little mother Oshún protects us with her mantle and will help us in what we ask from our hearts.
We recommend other beautiful rituals with the beautiful Goddess Oshún:
Most read content: