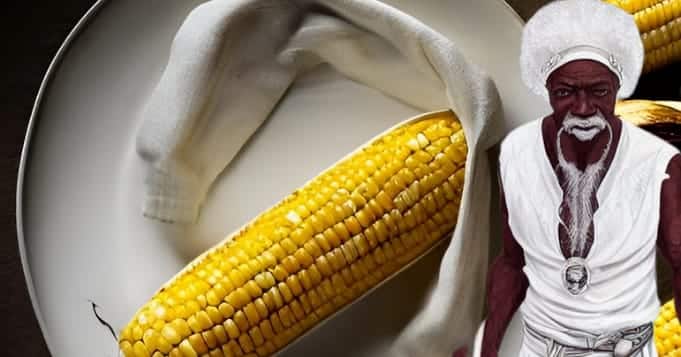 Did you know that it is the power of this Orisha that guides our lerí (means "head" in the Yoruba language)?
Obbatalá is the Orisha of creation in the Yoruba Pantheon, is the owner of all heads, pure par excellence, owner of everything white, of thoughts and dreams.
Baba is just and merciful, he protects all his children and also those who honor and respect him, do not doubt that, if your request is fair, he will achieve it for you by freeing you from hard battles.
Among the offerings or addimú to Obatalá Today we will do this in his name so that he gives us abundance and prosperity, which is transformed into money and evolution, although we must not forget that the rituals we do at the foot of his deity They will help us in everything we ask of them, as long as it is from the heart and with humility.
Ingredients:
8 ears of sweet corn
White plate
Cocoa butter
Honey bee
Cascarilla
Cotton
2 candles
8 cents
If you want to do the cascarilla in your house, or you don't know what this powerful ritual element used in Santeria is, we invite you to read this article: How to do cascarilla homemade? Click here.
How to do this ritual with Obatalá step by step?
Put a lot of faith in this Offering to Obatalá so that the money arrives, because it will make us prosper, bring luck, solve conflicts and break down obstacles that limit us
First you must roast the cobs of tender corn and remove them when they are well roasted, putting them then on a white plate.
put them to refresh so that they cool and then you anoint each ear with cocoa butter with your hands.
You must also pour honey, but not as abundant, just a little over the top.
Then check cascarilla generously to the ears and cover them with cotton in such a way that they are well covered.
Light the candles and ask for Obbatalá's blessing with your bell if you have it, informing Baba of what you are going to offer and ask for his intercession to solve your situation.
Short prayer dedicated to Obbatalá for this ritual
father of all white

Of everything clean, of everything fair.

May your blessing always reach me and sustain me.

I need your great protection (say your problem).

I beg you, my holy saint, that abundance and money materialize in my life, giving me and my family what I need to evolve.

If my request is just, give me grace.

May his mercy reach me always.

Maferefún Baba Obbatala
How long does the offering last and where to take it?
You must have this offering at the foot of Obatalá for 8 consecutive days, in case you don't have it, you can put this offering up, remember that the place must be clean and organized, you can place it, for example, on top of a piece of furniture.
I also recommend you light the candles every day and make the prayer dedicated to the deity, choose a time of day when you are alone in the house, or at least when you can take advantage of the silence to connect with the energy of the orisha.
On the eighth day you must go to a hill or to a site with elevations of land, such as small mountainsañayes, because that is the place of nature where habita the orisha, and taking the 8 cents right in his name you leave his offering there.
In case you do not have places like the ones I have mentioned before, choose a leafy and beautiful tree to leave your offer there.
The most important thing, the essential ingredient in this offering is your faith, never lose it, even if your days are gray, trust, they will be pure and very white again with Baba's blessing.
Remember that this Offering to Obatalá so that the money arrives to our life is not only to give us abundance, but so that we have health, prosperity and all kinds of luck, only then will money reach our feet to help us open the right paths.
We share other powerful content about Father Obatalá:
Most read content: