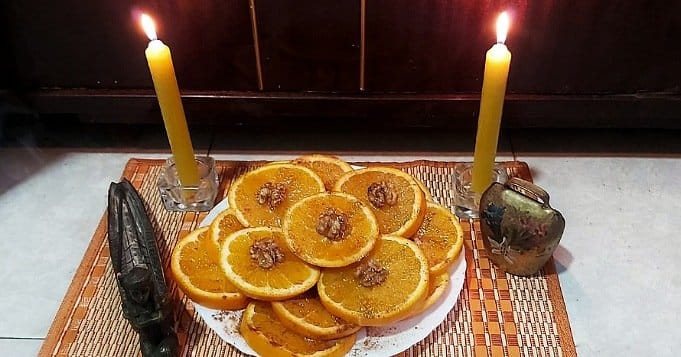 When an Addimú is deposited to the beautiful Goddess Oshún It should be offered delicately and with good spirit because our Orisha likes harmony and love to reign around her.
Today we offer you one of your favorite fruits: the orange.
This tasty and powerful fruit attracts prosperity, success, happiness, abundance and activates the powers of divination.
Also used for baths and many rituals in different religions.
The orange has a high frequency of energy, it is believed that its peel gives us "the joy of angels" and in our case that joy is for Oshún, it is said that after taking a bath he will savor the offerings of oranges.
An addimú for abundance "very simple, effective and very powerful"
This offering is to open paths in love, the economy, personal relationships, for when we have obstacles in the way and they do not let us advance. It is also to ward off all the bad, have health and all the good on our side.
Even if you have not received Oshún, you can also make this offering because she receives everything that is given to her with love.
Always remember that the offerings and works that you make must be charged with faith and will.
Ingredients:
3 or 5 oranges
White or yellow plate
Honey bee
Cinnamon
Natural or powdered nutmeg
Dragees or gold glitter (frost)
2 yellow or white candles
5 cents
How do we prepare this offering to Oshún with orange?
First you wash the oranges and it depends on the number of slices that you will put, the number of oranges will be:
If there are 3 oranges, it will be 15 slices.
If there are 5 oranges, it will be 25 slices.
You are depositing them on the plate one by one with great delicacy and love.
As you deposit the first slices, you pour honey over them and cinnamon powder.
So until the 15 or 25 orange slices are set.
If you have the natural nutmeg, you pass it through honey before putting it. You will put them on top of 5 orange slices, deposit a nut per slice.
But if instead you have the nutmeg powder, you sprinkle it on top of all the slices, and then add sprinkles or golden glitter.
You light the 2 yellow candles and present the offering to Oshún:
Mother Oshún
Here is your daughter / or (your name)
Asking for his blessing and offering this delicacy of sweet oranges with honey, cinnamon and nutmeg.
I need you to illuminate my paths and grant me prosperity (place your request)
Thank you for everything you give me
Thanks for your love and help
This work will be at the foot of Oshún for 5 days, in case you see that the withdrawal can be spoiled and you go to the river with 5 cents as a right and there you deposit it.
A spiritual bath in the name of Oshún
In this work you also have another option and that is bañarte with all that offering cleaning your whole body.
In this case, you pour the offering in water, dissolve everything well as an omiero (spiritual herbal water) and take a shower from the shoulders down, allowing that prepared water to dry on your body.
I recommend you never let the offerings go bad, we must be attentive to it.
In case you do not have Oshún you will put the work on the ground, but if you have animals in the house, it will be better to place it up high.
Remember that this powerful offering to Oshún with orange we must do with much, but much faith and love. It is a fundamental element so that everything works out in our favor.
May the blessing of Oshún always reach you constantly!
Other powerful Ritual Baths with the goddess Oshún:
Most read content: