Olokun it is venerated by many, whoever receives it finds in it health and well-being, balance and spiritual growth.
Orisha linked with the secrets of life and death. All the mysteries of the bottom of the sea are only known by Olokun because habita in its depths. She is considered both a female and a male deity.
We will make this offer to you for May it give us a lot of health, development, prosperity, abundance and everything we want to ask from the heart, before doing the work think about your request, so that it is clear and coherent at the time of pleading with the orisha.
When Olokun is asked and her jar is uncovered, one should never look directly into the bottom, first she looks at both sides and then she looks at her and not so deeply because only she knows the mysteries she holds.
An Adimú dedicated to the Great Orisha Olokun:
This Addimú (offering) dedicated to the orisha is quite simple to do and like any offering it must be given with care and affection.
Choose a moment of calm, if it is possible that you are alone in the house much better, so you will not be interrupted. Try to have all the ingredients prepared so that you do not have any stumbles when doing this ritual.

Always talking to her gently and with great faith if you ask her for something, you will achieve your request.
Even if you don't have Olokun, you can dedicate this gift to the Orisha. Because if you believe in her, she will listen to you and if you go to her temple, the sea, much better. Near its waters you will feel its energy and power.
Ingredients:
Pork or it can be lard
Yam
Raw cornmeal
Taro leaf (as in the photo below)
White plate
molasses of caña
1 white candle
How is this offering that we are going to offer to Olokun made?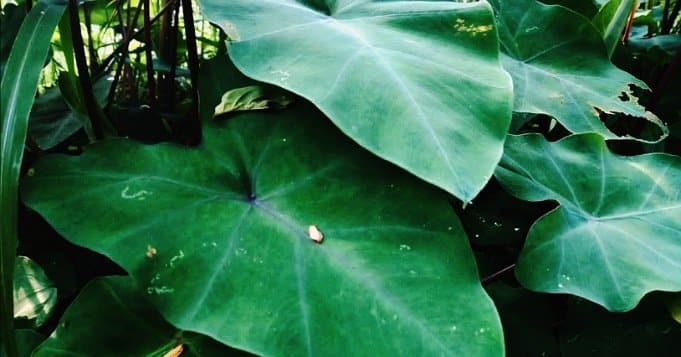 The pork does not have to be so much, cut the meat into small pieces and put it to fry, they should be well fried.
In case you do not have meat you can use the lard only. Olokun likes this meat very much so we offer it to you in this addimú.
You boil a yam or two, it depends on what size you want to make the balls to offer to the orisha (there are 9 balls in total).
When the yam is well cooked, you mash it like a puree, pour in lard, raw cornmeal and knead until all the ingredients are well mixed.
In case you are going to add the fried pork meat, you add it and knead it as well.
You will make 9 balls of that mass, the size you want but that are in quantity of 9.
Then you wash the taro leaf and place it on the white plate, and on top of it you put the 9 balls.
Let's place the work at the foot of Olokun:
Uncover Olokun's jar and place the plate with the offering on top of its tureen, which is shaped like a lid.

On top of the balls you pour molasses from caña, then light the candle and say:
Sacred Olokun
Your blessing every day
Here is your daughter / o (your name)
Offering you (your offering)
To thank you and I need (your request)
Thank you for always being by my side and may your blessing always reach me.
Maferefun Olokun!
This offering for Olokun will last for 9 days. and then you must go to the sea and leave it, if you can, you ask him to tell you where the deity wants you to take the work.
If you do not know how to ask or you have not received the Orisha, you can throw it away.

May Olokun always protect you and give you the most important thing, health, a lot of health. Blessings.
Other rituals and offerings on behalf of Olokun:
Most read content: