Very powerful prayer to Eleguá to open the roads, for difficult cases, for prosperity and ask for protection.
Father EleguaYou who illuminate the paths with your light and watch my paths every day and night, with your eyes always open, never blink to warn me of dangers.
Hear our Eleguá prayer!
Protect us little giant in the 4 corners and in all the cardinal points, make things in my life go forward and not backward, you are the one who binds and also unties.
Your eyes are so bright because you are destined to see everything forever, you watch carefully the crossroads of the road, you are behind the doors, ambushing danger and curses.
You are fair, cunning, playful and touchy as a child, we know your anger when you are offended, you are bothered by singing or whistling, you can be as good as an Angel and bad as the devil himself.
You are the first protection Eleguá:
We greet you first and ask permission, first you drink and eat yourself. Our offering is everything you like to eat: chicken, mouse and hutía; We pamper you with candies, toys, tops and corn, you have to always be happy because you are the one who kills quickly and you are also the king of evils.
We ask for your protection Eleguá!
With your guava stick doodle, you are keeping promises and giving protection anywhere, because you are 21 gods at the same time, you walk on the roads, in lonely places and behind doors, you are young and also old, smoking your tobacco, with your hat and red clothes.
We have great confidence in you, you are a messenger of the Gods, who brings all your blessings to us, a spy we hear whistling on street corners and who divert what dangers bring.
Baba, you close all roads and open them as the owner of all the keys of the world, also the key of everyone's destiny, you lead towards birth and death, towards the end and the beginning of everything; I beg you, don't close the doors for us.
Laroyé Eleggúa! We invoke you by tapping the ground 3 times.
How to greet Eleguá?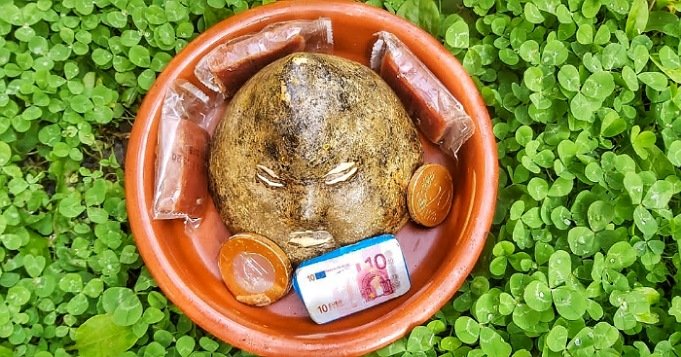 We greet Eleguá with great respect and great faith. The little giant is the caretaker of our paths and protects our home.
We greet him by tapping the ground in front of him 3 times and three streams of ritual water are spilled, saying "Omi tuto, Ana tuto, Tuto okan, Tuto laroye, Tuto elei"
To offer you offerings we can serve you on Mondays, which is your favorite day, we can offer you, toasted corn (Aguadó), smoked jutía (Ekun) and smoked fish (Ellá guí guí), honey (Oñi), and brandy (Oti) and tobacco smoke (Hasha).
What we offer must be from the heart and we mention it out loud so that the Orisha knows what we offer, then we ask for his blessing.
We greet you like this:
I refresh you to open the way with the permission of my older parents, I play the maraca so that you open the door for me to achieve peace, prosperity, evolution, professional activity, money, love, stability, health, firmness, happiness, abundance, harmony, wisdom and good luck, for me and for all my family and friends. Also counting on my guardian angel, godfather and all the representatives of the Yoruba pantheon
Prayer to Eleguá in translated Yoruba:
We can also invoke the great Orisha with this prayer.
Prayer in Yoruba:
Eshú Elegguá oga gbogbo na mirín ita algbana baba mi muulo na burukú nitosi le choncho kuelu kuikuo oki eos / ofo, cosieyo, cosi ku, cosi ano ni oruko mi gbogbo omonile fu kuikuo oducue, baba mi Elegguá
In Spanish:
Owner of all 4 corners, greatest of the road, my father, take the bad so that I can walk in health, that there are no sick, that there is no loss, that there is no revolution, that there is no death, in the name of all I thank you, my father, Eleggúa.
I recommend the following beautiful Rituals dedicated to Eleguá:
Most read content: