The Virgin of Charity of Copper or simply Cachita, the pseudonym by which this miraculous saint is known, is the most venerated Catholic virgin in the largest of the Antilles.
Es one of the direct invocations of the Virgin Mary, a fact that is evident through his image where he appears standing holding the baby Jesus in his arms.
Right at its feet you can see the stormy sea that is downing the boat where the three Juanes take shelter, who were the witnesses of their appearance in Nipe Bay.
The Virgin of Charity, Patroness of Cuba and of all Cubans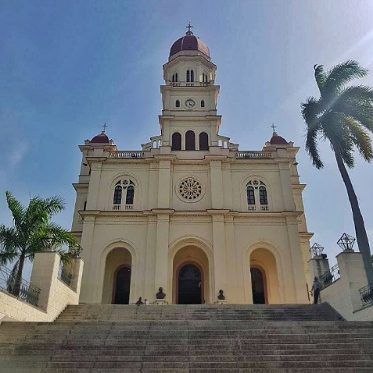 She is the Patroness of Cuba and from its altar erected in the National Shrine Basilica of Our Lady of Charity of Copper in Santiago de Cuba, it offers special protection and love to each one of the Cubans who venerate it with faith and loyalty.
This saint has been a fundamental pillar for the town because thanks to her miracles and presence, many families have regained the will to live.
Its festivity is celebrated every year on September 8, when the religious of Cuba and the world gather to venerate it as it deserves, to the sound of mariachis and with the aroma of sunflowers and yellow candles.
There is no home in Cuba where there is no representation of the Virgen de la Caridad del Cobre.
It is common to observe in the houses the possession of some pebbles brought from the copper mines who directly symbolize the saint, these are placed in glasses of water, or carried in pockets or bags, as they exercise special protection against evil by performing the function of amulet.
Prayer to the Miraculous Virgin of Charity Copper for protection:
Holy Mary of Charity, Mother of the Lord Jesus, we venerate you with special affection and love.

We praise you Mother and Patron of the Cuban people, because you have been present in all the struggles, sorrows and joys of your people.

Virgin mambisa proclaimed and venerated by our veterans.

We ask that today as yesterday you be present in the life of your beloved people, this people that seeks love, understanding and the sincere union of all Cubans.

We offer you the effort of all Cubans,

the work of our workers and peasants,

the study of our youth,

the smile of our children,

the pain of our sick,

the silent and vigilant wakefulness of our mothers,

the loneliness of so many brothers, widows and orphans,

the generous dedication of our martyrs and deceased,

the noble and simple feeling of our people.

Mother of Charity, come to your altar of Copper, so loved and venerated, the supplications that we present to you. Amen.
Learn more about the Patron Saint of Cuba, the Virgencita de la Caridad:
Most read content: