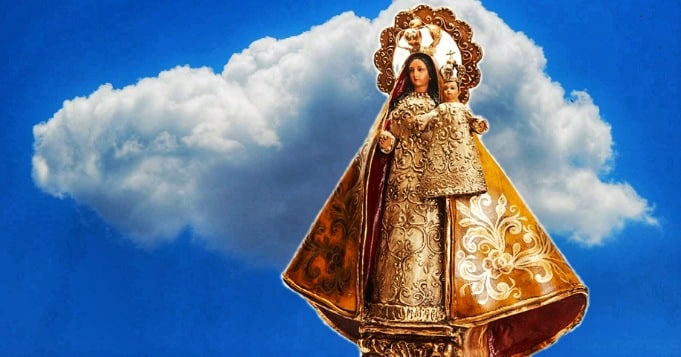 Always the Patron Virgin of Cuba, the Charity of Copper, has been seen as a powerful warrior, protector of her children and devotees.
They say that the image of the Virgencita de la Caridad collected by the three Cubans challenged the sea in a storm, as it came from a wreck of a Spanish ship.
Legend also states that Francisco Sánchez de Moya, artillery captain, received on May 3, 1597, a mandate from King Felipe II to command a force towards the mines of the Sierra del Cobre, in Santiago de Cuba, and defend those coasts. from the attacks of English pirates.
There he had to erect a small church, and place there the already adored image of the Virgin of Charity, so that it would help them fulfill their mission and protect the troops from the enemies.
The protective Virgin that protects our steps
At the beginning of the war of independence, the Virgen de la Caridad del Cobre became a symbol of national patriotism, to which the Mambises entrusted themselves asking for her protection and blessing.
They say that the Cuban women wore the advocation of Copper as an ornament and the votive masses to the Virgin were considered seditions because they demanded freedom and victory for all those who fought against Spanish power.
Thus, the Cuban people have always been devoted to the Patron Saint of Cuba and ask her for her protection against all evil, always bringing her the sunflowers that she loves so much and raising prayers to thank her and ask for her blessing.
Powerful Prayer to Our Lady of Charity of Copper for Protection
Thus we pray to the Virgin of Charity of Copper to beg her to intercede for us against all evil.
Before begging him, light him a yellow or white candle, and if you have 5 sunflowers or yellow flowers put them in front of his image as an offering, but if you don't, don't worry, your faith will suffice.
Holy Mary, Virgin of Charity of Copper, adorable Mother, Warrior and wise

Return your eyes to us and please listen to our prayers in these times of need

I ask you my protective Virgin, deliver us from disastrous cases, dangers, epidemics, fires, storms, lightning and flashes

Take care of us in this difficult period we face and allow us to walk safely through the world

Virgencita de la Caridad, you never abandon your children or those who come to ask for your help and blessing

I beg you, have mercy on those who suffer and those who face difficult situations and cover them with your mantle of blessings,

Take us in your arms, protect us and protect us

So be it, amen
Rituals that you can do in the name of the Virgencita de la Caridad:
Most read content: