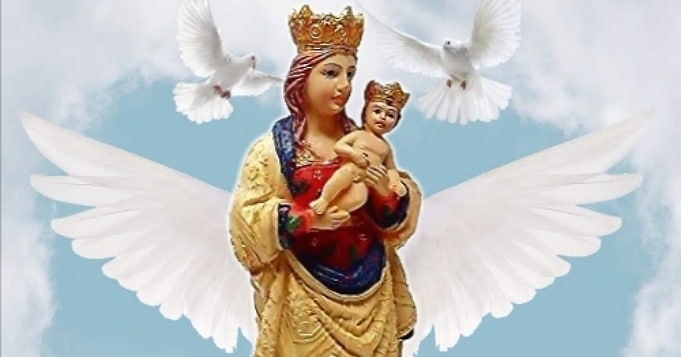 The Virgin of the Smile is a Marian invocation to the Virgin Mary, mother of Jesus and the Christian religion.
This is the Virgin patron of psychiatric hospitals and mental health centers.
The Virgin of the Smile offers special protection to people who suffer from:
Mental diseases,
sadness,
depression and
lack of motivation among other ailments.
This saint is invoked through her prayers in which special favors are performed almost all related to mental health.
White candles and flowers of the same color are placed as an offering.
The favorable day of this virgin is Friday, fundamentally the last of the month.
Prayer to make a request to the Virgin of the Smile
Virgin of the Smile, mother of joy, I come to put myself in front of your good eyes, I need the light of your serene eyes, and the hope of your kind face.

I thank you Maria because you are by my side at all times, when I suffer I have your relief, when I am happy you share my joy.

I come to seek your help as a mother for me and for all my loved ones (make the desired request with humility).

I ask you to give birth to Jesus in us.

In this way we can live with joy and we will get ahead in the midst of life's difficulties.

Give us strength, patience and courage and a lot of hope to keep walking.

Mother of joy pour your comfort on all who are sad, tired, depressed or discouraged.

May the beauty of your face full of strength and tenderness fill us all with confidence, because you understand what happens to us and we are valuable to your maternal heart.

Amen.
Prayer to the Virgencita de la Sonrisa so that happiness may bless the home
This is a very miraculous and powerful prayer to Our Lady of the Smile:
My mother, little virgin, have mercy on me because I am depressed, sad and afflicted.

Virgen de la Sonrisa allows happiness to penetrate my home and permeate every corner of it, give me back the will to live and hope.

Help me to continue fighting for me and my family to give them a better future.

Just as you helped Saint Therese to get rid of depression, reach me the consolation that I ask of you and pray in intercession for me before Jesus (make the desired request).
Basic prayers for after the petition to the Virgin:
Next, pray an Our Father, a Hail Mary, a Creed and a Glory.
Padre nuestro
Our Father who art in heaven, hallowed be your Name, your Kingdom come; Thy will be done on earth as it is in heaven.

Give us today our daily bread; forgive our offenses, as we also forgive those who offend us; do not lead us into temptation, and deliver us from evil. Amen. 
Ave Maria
God save you, Mary, you are full of grace, the Lord is with you; blessed are you among all women, and blessed is the fruit of your womb, Jesus.

Holy Mary, Mother of God, pray for us sinners, now and at the hour of our death. Amen.
Apostles creed
I believe in almighty God the Father, Creator of heaven and earth.
And in Jesus Christ, his only Son, our Lord.
That it was conceived by the work and grace of the Holy Spirit; He was born to the Virgin Mary.
He suffered under the power of Pontius Pilate; He was crucified, dead and buried.
He descended into hell; On the third day he rose from the dead.
He ascended to the heavens; He is seated at the right hand of almighty God the Father.
From there he has to come to judge the living and the dead.
I believe in the Holy Spirit.
The Holy Catholic Church; the communion of saints.
Forgiveness of sins.
The resurrection of the flesh.
Enduring life. Amen.
Gloria
Glory to the Father, and to the Son, and to the Holy Spirit. As it was in the beginning, now and forever, and forever and ever. Amen.
We share other beautiful prayers that heal the soul: