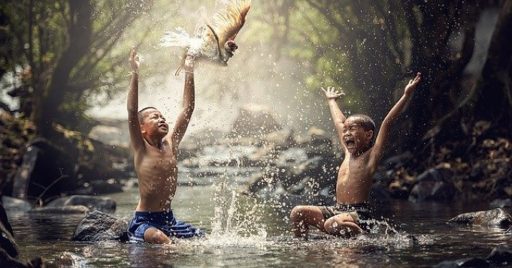 May this prayer to the ibeyis bring you good luck, health and save you from all the bad.
The twins are saviors of the world, of everything malevolent, they bring prosperity and unfoldment, tireless protectors of children.
Remember that the prayers should be done with great faith and love, the prayers that we dedicate to the Orishas should be done in a quiet place, you can place a candle, in this case preferably white and so you invoke them from the heart, thanking and doing your order.
Prayer to the Twins:
Glorious Ibeyis, who in their little hands carry little daggers, fire and cut flowers, so powerful, conquerors of the devil and the malevolent, listen to this prayer of love and faith.

Powerful children dressed in red, united by the navel that cannot be separated. Red, blue and white are the colors that give us energy and Ashé.

Invincible Jimaguas, who adorn themselves with necklaces, keys, and coins, we pray that, from the top of the palm, wherever they live, be our watchmen and protectors and take care of us from all evil.

Merciful children who were born in the river praying, shouting and upsetting everyone in their path, the hubbub of their hearts is capable of undoing any evil. Give us luck, fortune and prosperity.

We are grateful for your acts of kindness, you who happily go between bells and bells and offer us your greatness every day.

Blessed children of Shango, the red and strong God, from their father they inherited bravery and daring.

Take care of our families and our children because their wishes are fulfilled.

You who walk in the savannahs, go down to the rivers where the drum sounds and play among pumpkins, twin children and great sages.

Revered for protecting children, barbers, surgeons, Ibeyis salvadores who are respected at midnight for their remote spells.

We ask and implore great blessings from you every day, give us health and eliminate the evils that prosper around us, that your joy and cunning accompany us in thought.

We salute you with respect Ibeyis, saying: Ibeyi oro alakúa oyé oyé mojojó!
I pray to ibeyis translated to Spanish:
Ibeyi oro awa keke sugboa agba nitoriti otan kuelu na choro trembles / a / ye and / Ya ogun si na ebita kiko yiofé ri mayi kueye sugbon ba si kaide ati itawo meyi na keke ati agba na ibeyi wa ologo afefe ibeyi ke waile elewe wile alakisa, baba aye nijin labi gbogbo chire odukue si Ibeyi
Prayer translation:
The Jimaguas express, we young but older, because we ended the difficulty in which the world was.

We won the war against the devil who did not want two to meet, but he found the youngest and the oldest of the Jimaguas, where the Jimaguas are glorious, seeing how the Jimaguas do not go to the house of the rich, they go to the house of the poor, they find joy first.

All games are born here thanks to the Jimaguas.
May these powerful prayers to the Ibeyis cleanse your path of all manner of evils, and may their protection bring you much health and fortune.
More about the Ibeyis, stories, rituals and more ...
Most read content: