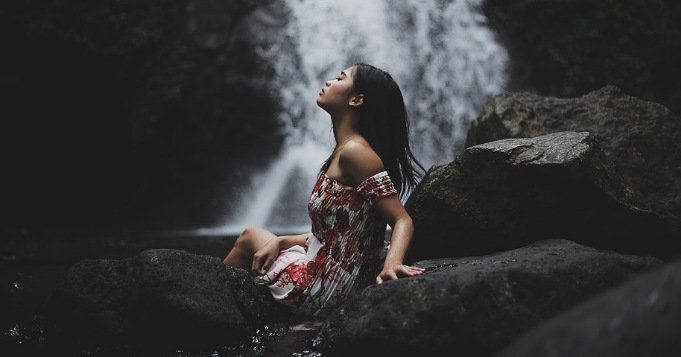 Oshún is one of the goddesses of the Yoruba pantheon, which syncretizes in the Catholic religion with the Virgen de la Caridad del Cobre, patron saint of Cuba.
Oshún is one of the most revered female deities within homes that practice the Yoruba religion.
She is the goddess of love and rivers. Beautiful, full of sensuality and with a provocative female figure that evokes both fertility and eroticism, Oshún enchants all those who cross her path.
Oshún is a powerful Osha, he belongs to the seven African powers and to the group of leading Oshas. She is the protector of pregnant women and women in labor, represents religious rigor and symbolizes relentless punishment.
It is not only symbolized by rivers, but also related to jewelry, body ornaments and money, it represents wealth and everything beautiful in this world.
How do we ask the Orisha of the clear and sweet waters of the earth?
As she is the Orisha of fresh water, of the fertile womb, and provider of life, we turn to her to achieve luck in family life and the blessing of having children.
Oshún can also help us in matters of economic prosperity and offer us his protection against dangers, health, love and everything good.
It is very important to remember that when prayers are said to Oshún to make requests, favors and request fortune, they be carried out with faith and devotion.
In addition, the Goddess appreciates that her children go to her temple, the river, to bring offerings and pray, there habita his energy and Ashe.
For this reason, many of her faithful devotees go to the rivers loaded with faith and offerings of honey, oshinshín and sunflowers, which are the favorites of the saint.
There they deposit them and then proceed to talk with Mother Oshún about their joys and sorrows, and, above all, they thank her for her eternal blessings.
Prayer to Oshún to thank when we visit her in its powerful waters:
To its waters of rivers, waterfalls, lagoons, we can take you, in addition to your favorite offerings such as sunflower flowers and honey, a yellow candle and light it at the edge of its waters to invoke, ask and thank you.
¡Oh, Mother Oshún! Orisha of rivers and waterfalls, waters that wash away the evils of the world.

You who bless hearts with vibrations of peace and forgiveness

Bella Oshún, owner of gold, you who illuminate and open my paths, attend to my needs and pour your gold on my family

Blessed Mother Oshún, I go to your temple today and from these warm waters I thank you for all your blessings

Thank you for always protecting your children from all calamity and infusing our hearts with the joy of true love.

My mother, thank you for the abundance, for health, happiness and prosperity

Oshún, beautiful and loving, I thank you for keeping my family together and for protecting us from all evil

Divine Mother, from the river I ask you, always bless me with your goodness and your justice.

Oh, most powerful Oshún! I thank you for your immense blessings and

I promise to always carry your name with me wherever I go.

So be powerful goddess Oshún
Learn about some of the powerful Offerings that we can offer to Oshún:
Most read content: