Yoruba legends say that Oshún, goddess of love, is the owner of the river and sister of Yemayá, goddess of the seas and that both are closely related by the natural elements that represent them.
Oshún and Yemayá are the queens of the two waters, owners of the seas and rivers, protectors of newborns, pregnant women and women in labor.
The patakí count that Yemayá felt immense love for her sister Oshún. When the kingdom of the latter was destroyed by the wars of conquests and fell into extreme poverty, Yemayá, the owner of all the riches in the world, cut off her beautiful hair to give to her sister and gave her the rivers to make them her temple.
Thus, it is said that Oshún and Yemayá do not separate, and their children are equally related from birth, and they have the protection of both.
The goddess Oshún, and the deity YemayáThey are spirits who work in company, specifically when it comes to matters of love, marriage and motherhood.
Yemaya It has the characteristic of being responsible, it is maternal and it protects and cares for infants, and especially babies that are pregnant in the mother's womb.
Oshun for its part, it is pending to ensure that the babies are conceived firmly. He is a deity who instills love and takes care of fertility for women.
Oshún, the most beautiful of the Orishas who cares for the belly of women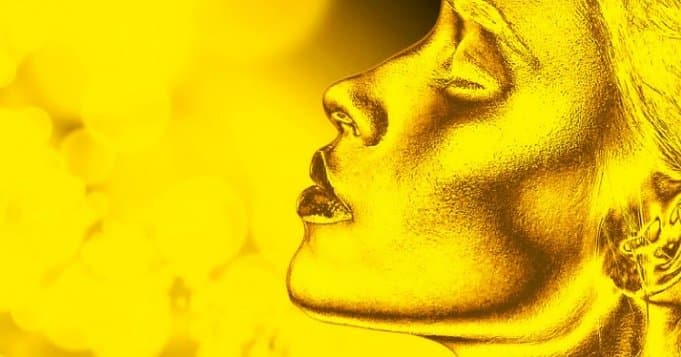 The deity Oshún She comes from Nigeria and Benin, cities of the African continent and syncretizes in the Catholic religion with the patron saint of Cuba, the Virgin of Charity of Copper, who is also worshiped in different countries, especially in Latin America.
Oshún is a protective goddess, fundamentally of women, she has powers to heal and improve the belly of those women who cannot conceive.
She is the patroness of abundance, crops, love and fertility. It is invoked especially by those women who have difficulty conceiving children. It is the one that governs the forces of nature and issues related to humanity.
Oshún is always present in the feelings of human beings, sensuality, love and everything feminine. Likewise, it is known as the queen of fresh waters, springs and rivers that run through the world.
She represents religious rigor and symbolizes relentless punishment. She is the only one who reaches the creator, Olofin, to implore for the beings of the earth. She is the apetebí (wife) of Orunmila, whom she supports in all her work.
We pray to Oshún and we always thank her, because she likes to listen to the small joys of her devotees. We also ask for your relief from sadness.
Let us always remember to bring him sunflowers and various offerings to the river, we put them in the water and we pray to him for well-being, for love and prosperity.
Yemayá, the Orisha Mother and queen of the seas that gives life and protection
Yemayá is the divinity of salty waters, the representation of life, the womb and the orisha of motherhood. She is considered the Mother of the Orishas and extremely powerful, as she is said to be as old as Obbatalá.
His name means IYA MO EYA. Mother of the Fishes and it is said that she was born with the moon as Obatala was born with the sun.
Yemayá is in nature, symbolized by the waves and the sea.
She is the mother of all children on earth and represents the source of life, fertility and motherhood.
She is considered one of the most powerful Orishas and all kinds of prayers are addressed to her in search of love, prosperity and, above all, health and fertility.
Yemayá, representative of life and the mysteries of the blue depths, is hardworking and likes to hunt, veneer, handle the machete. She is a warrior, indomitable, cunning and righteous.
Its name should not be pronounced by whoever has it seated, without first touching the ground with the fingertips and kissing the footprint of the dust with great respect.
The prayers to Yemayá are related to its representative element in nature, the sea. For this reason we ask for protection and health, and if possible we approach his natural temple, looking at the seaañatwo for its waters.
We bring you white roses and ask you to help us and protect us in difficult times. We pray and implore her for well-being, fertility and protection.
Prayers dedicated to the Dos Aguas, Oshún and Yemayá
Oshún and Yemayá are related to fertility in women who have trouble conceiving. Oshún can help conceive the baby and Yemayá will protect the pregnancy and the newborn, and both make sure that the new life that is born is under her protective mantle.
With all fervor we must direct our prayers to her, begging her to help us conceive a pregnancy soon, happy and, above all, safe.
Before beginning the prayer, we can entertain Oshún and Yemayá with their favorite offerings and light white candles in a quiet and solitary place, where we will first thank, pray and tell them about all the good things in life, about our problems and difficulties. and we will ask for your help and support to fix them.
This is the prayer to Oshún and Yemayá to ask for fertility and become pregnant
Beautiful Oshún, Mother Yemayá, immense queens of the two waters, you who guide your children and protect them from all evil

Oshún, Queen of the River, you who grant couples the miracle of being a father and help your daughters to be fertile,

Yemayá, Sovereign of the Seas, you who protect pregnant women and allow them to conceive healthy and strong children,

At this time I invoke you to help me conceive children in my womb, and I beg you, Mighty Mothers, to keep us healthy so that we can enjoy a harmonious and peaceful life.

I beg of you, my saints, your company, supporting me and sharing your wonderful gifts with your faithful and devoted daughter.

I come to you at this time with all my humility, faith and sincerity, to implore you to grant me the miracle that I long to be a mother and bring a child into the world.

I beg you, my dear Oshún, that with your sacred mantle and with your infinite love you touch my belly, and allow it to become fertile so that I can conceive a child that I so desire.

Mother Yemayá, I implore you to protect my pregnancy and receive my future baby in your mantle of blessings

I ask you to help me obtain this long-awaited desire, so that I can continue the path of my life accompanied byañagive and happy

I promise you that I will be a self-sacrificing and dedicated mother to your child and that I will always guide him along the best path, until he reaches his destination.

So be powerful Dos Aguas, Oshún and Yemayá.
Some powerful ritual cleanses and baths that help purify us and open paths:
Most read content: