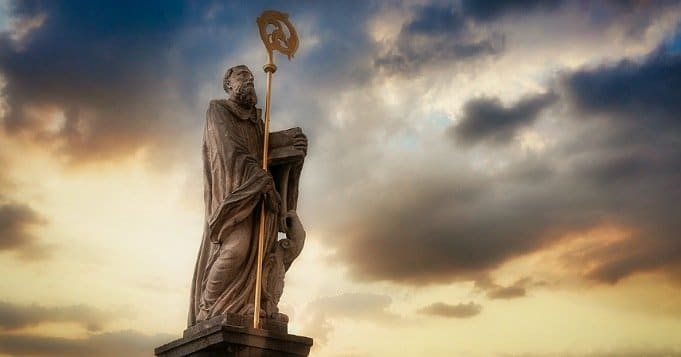 Patron Saint of Europe and founder of the Benedictine Order, Saint Benedict is credited with numerous miracles.
He is the patron of:
The farmers,
engineers, and tanners,
of the farmers.
He was also appointed protector of Villa Heerdt near Düsseldorf in Germany, of the town of San Benito near Jipijapa in Ecuador and of Monreal del Llano in Cuenca (Esp.aña).
Benito is the Patron Saint of those who suffer from kidney diseases, of the monks, of the village of Nursia, of the religious belonging to congregations, of the schoolchildren, of the servants and of the speleologists.
How and when do I pray to Saint Benedict to protect me?
Devotees pray to Saint Benedict imploring his help in need, especially to ward off dangers and evils from people.
Some believers invoke Benedict to protect themselves against nettle stings, poison, erysipelas, fever, and temptations.
His holiday is July 11, but we can always invoke him when faced with needs and anguish to help us and intercede for us.
Its color is blue, we can light a candle of this tone or white to invoke it in the light of this.
We pray to Saint Benedict to ward off the evils of ourselves or of those close to us.
We ask you to provide us with powerful protection so that no danger, sorcery or bad language touches us.
The special favors that we ask should always be with faith and from the heart, so that the saint listens to us and is merciful with our request.
A miraculous prayer to Saint Benedict to protect us from danger and ask for their protection
If we sense danger and negative energies around us, we offer the following prayer to Saint Benedict, which is powerful and of immediate action.
O Mighty Saint Benedict! THE holy protector, THE glorious and exemplary one, you who take care of all those who are helpless and who must be turned to at this time.

On this day there are many who come to you with humility to implore you for your divine mercy, so that you do not allow anything bad to happen to them and protect them eternally day and night.

Beloved Saint Benedict, please keep away from each one of your faithful and each one of the people who want to come to harm them, all those who have bad thoughts, bad actions, envy and sinful intentions towards each one of they.

Oh! Sacred Saint Benedict, you who know everything about each one of your devotees, about their past, their present and also their future, be the light and the guide, strengthen their minds, their body, their soul and in the same way their spirit.

Heal them of each of their ailments and their ills, eliminate their bad thoughts, do not allow them to hold a grudge, even if it is against their enemies and fill them with faith, love, hope and that they do not bear a grudge even against their own enemies. and fill them with much faith, love, hope and abundant fortune.
Learn about some powerful rituals and prayers against evil:
Most read content: