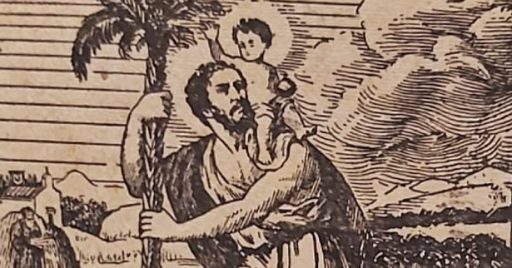 San Cristóbal, known as "He who carries or Christ bearer", as can be identified in the religious images of the Saint, he carries the divine child on his shoulders, because as the story goes, he helped him cross the great river risking his life, his faith in God was so great that he overcame the obstacles.
Protector of travelers, sailors, transporters and boatmen, he is asked for protection to cross rivers and waters. Saint of travelers and roads, who brings health and cures the sick.
In Cuba, San Cristobal As Patron of Havana, Cubans honor and give their faith to the one who with great courage helped to cross that boy from shore to shore.
At the yoruba religion San Cristóbal is syncretized with the giant of Osha Aggayu Solá.
The enslaved Africans trying to safeguard their faith and religiosity attributed the similarity between both deities by their physical appearance, both called "giants".
Prayer to the Patron of Havana: San Cristóbal
May this prayer help us to avoid and face all kinds of diseases and epidemics, may it give us health and bliss.
Unclean martyr and powerful defender of his devotees in tribulations and diseases and a special refuge in storms and epidemics.
Loving Jesus, fundamental stone of our faith, in whom we faithfully believe, for which your glorious martyr Saint Christopher had, with which he preached to you without fear of death and in your name he did wonders, healing the sick and executing wonders, as it was to flourish again. the arid log.

By their merits we beg you to give us strength to exercise by work those who believe in faithfulness, and that, emerging from the sterility of guilt, may our lives be adorned with the beauty of virtues.

So that we may be able to bear fruits of glory by your grace, granting us now what we ask of you in need and at the hour of our death ascend to enjoy you eternally in heaven for centuries. Amen.
It is recommended to wear a medal or "magisterial" detente of Saint Christopher during the recitation of this prayer.
Most read content: