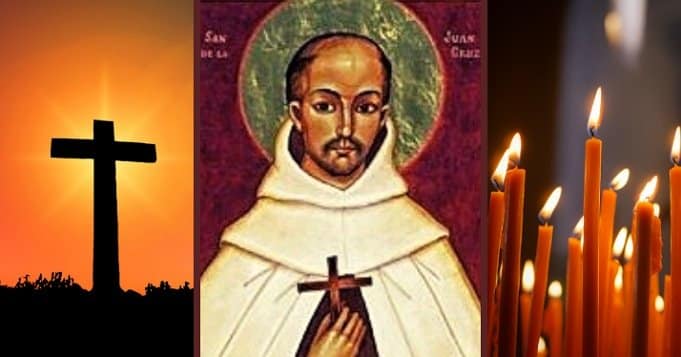 Saint John of the Cross is a venerated saint in the Christian faith, his life story took place in the Spanish community of Castilla y León where from a very young age he had to cling to faith to overcome the excesses that life caused him.
Famine, unhealthy conditions and the rise of infectious contagious diseases marked his life, at the very moment when his parents left for the kingdom of heaven as a result of these evils.
Thanks to charity, he was welcomed into schools where he managed to train and receive education.
Years later he received medical and nursing care work, returning with these actions part of the help that he himself had received in his childhood.
Demonstrating since then the simplicity and humility that characterized him for the rest of his life.
Works of the patron saint of poets What did Saint John of the Cross do?
Among his religious work stands out being a reformer of the Order of Our Lady of Mount Carmel and co-founder of the Order of Discalced Carmelites with Saint Teresa of Jesus.
In 1952, San Juan de la Cruz was established as the patron saint of poets in the Spanish language.
After his death and in honor of his multiple acts of faith and love of neighbor, he was canonized by the Catholic Church.
The festival in which homage is paid to San Juan de la Cruz It is celebrated every year on December 14, an opportunity in which the Church carries out charitable works based mainly on delivering clothing and food to those most in need.
Prayer to Saint John of the Cross for difficulties
Your emblem was always to suffer and be despised.

Oh if I could at least resign myself in my tribulations, since I am not as generous as you in suffering and being despised.

To you then, in so many sufferings you were always patient, resigned and joyful, I entrust myself to you so that you teach me to resign myself in my sorrows.

Nor am I short of heavy regrets and heavy crosses and very often tired and discouraged I stay, bend over and fall.

Have compassion on me and help me to carry my crosses with resignation and joy, with my eyes always turned to heaven.

I take you as my protector, as my teacher and be my guide here on earth, to be your companion in the homeland of paradise. Amen.
Other merciful Saints that you should know:
Most read content: