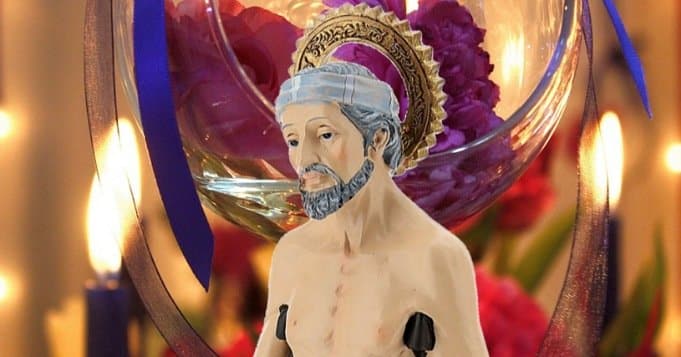 Saint Lazarus is the patron saint of the sick, a miracle worker and one of the greatest displays of faith in Cubans.
In Santeria, in syncretism with the Orisha Babalú Ayé of the Yoruba pantheon, the figure of the saint is highly revered due to the miracles fundamentally related to the cure of diseases of all kinds.
In Cuba, the cult spans centuries and the devotees offer the saint great offerings and sacrifices, mainly when the requests are urgent and desperate.
Many devotees are the ones who make promises to him asking for him to bring them back to health as soon as possible or the healing of a loved one.
The pilgrimage to pay tribute to the Sanctuary of San Lázaro is not only limited to the month of December.
The small temple located in Havana and popularly called El Rincón, usually welcomes many people who come from any part of Cuba to ask the old man San Lázaro for urgent help.
The immense power of praying to the miraculous Saint Lazarus
The Sanctuary of San Lázaro, which is located to the west of the capital city of Santiago de las Vegas, precisely in the town of "El Rincón", is the usual place to venerate and make requests to the saint.
There the devotees and faithful come loaded with candles, flowers and various offerings to honor Saint Lazarus and ask him for a timely miracle.
What is required of Saint Lazarus?
We always speak to the Saint with faith and tell him the problem and ask him to help us and not abandon us.
From our home we can also venerate him, in a quiet place we dedicate a purple or white candle to him, some flower, and in his name and from the heart we pray to the saint to:
Attract health and ward off disease from our body and soul
Strengthen our energy and attract good luck
Ask him for protection and to give us strength in life
Open roads and ward off bad luck and the ruins that disturb us
Keep the enemy, the bad eyes, the misfortunes and misfortunes out of the way.
At the end of the article we leave some of the offerings that you can offer to the saint.
This is the prayer to Saint Lazarus for urgent and desperate requests
Remember to make your request with great faith and love.
My old man, blessed Saint Lazarus,

My lawyer, my holy protector, in you I put my trust, in you I place my needs,

my worries and my anguish, my dreams and wishes,

Lord, you who have given so many miracles to your faithful

And knowing the goodness that springs from your hands

With humility and faith I come to you pleading,

asking for your mighty help and mercy.

O blessed Saint Lazarus, protector of all the underprivileged

For your benevolent actions and your strength to lay down your life for others,

He gave it back to you after losing it,

To you, miraculous saint, I request your valuable mediation,

pray for my wishes before good Jesus, your friend, brother and benefactor,

and asks that by his infinite mercy he grant me what I ask with all my heart

And so I can find relief in my despair:

(to ask with immense faith or what you want to achieve),

give me peace and tranquility to my soul to wait resigned

the fulfillment of the divine will.

Saint Lazarus, father of the poor, protector of the sick and unfortunate

I beg you, do not stop helping me, take this immense sadness away from me and mine

show yourself propitious as you always do and give us your immense blessings

and take my requests to the Lord as soon as possible, in order to alleviate my sorrows and problems

and remove all evil and enemies from my life.

So be it, amen
Some of the rituals that you can offer to Saint Lazarus:
Most read content: