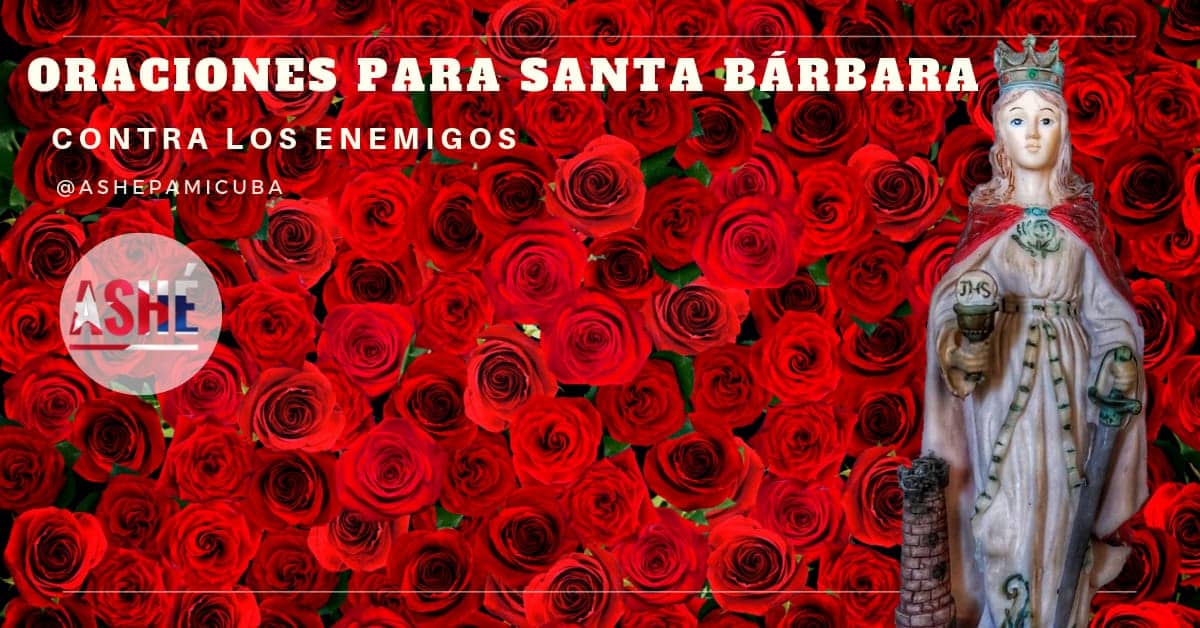 For the Cubans, Santa Barbara embodies enormous powerHer believers have great devotion to her and she is fervently praised by her devotees.
Saint Barbara was a virgin and Christian martyrHis image is represented with the saint dressed in white and a red tunic, as a representation of martyrdom and love for his religion; a crown and holds a chalice and a holy sword: a symbol of his unwavering faith.
Religious syncretism identifies Santa Barbara with the Orisha Shango, deity of the Yoruba pantheon, warrior and owner of thunder, lightning, fire and drums.
History speaks that Santa Barbara She did not agree to marry any pagan, as she faithfully defended her religion and in revenge her father allowed her to be martyred by cutting off her head with a sword.
Tradition versa that when her father came down from the mountain where his daughter had been murdered, lightning struck and killed him. For this reason, we also pray to the Saint, to get rid of the rays.
This is the miraculous Prayer to Saint Barbara Blessed:
Sovereign and eternal God, admirable in your saints, especially in the glorious Virgin and Martyr Saint Barbara, whom you prevented with your grace, by whose faith at twelve years of age he suffered jails, scourges and other cruel martyrdoms, until he was beheaded by his own father, in whose transit he asked you to do him this grace: that those who use their intercession were free from evil, helping them in the hour of death, not allowing them to die without the Holy Sacraments, and you granted it, assuring them that their request had been heard.
I beg you, Lord, for the merits of your dear wife Santa BarbaraWho has been strengthened by your omnipotence, illustrated by your wisdom and burned by your love, grant me the strength to resist temptations, to know and mourn my faults, and grant me your love, so that embraced in him I deserve the patronage of this sacred Virgin, and in special in the hour of my death, in which strengthened with the Holy Sacraments and through them and the intercession of the Saint, to enjoy in their company with you in glory, where you live and reign for all centuries of centuries.
Amen.
Prayer to Santa Barbara against enemies:
Oh God! Remove from me those wicked and miserable beings that lurk, I come to you Santa Barbara, that you confuse them, separate them from me and to you I cry out with faith and I give you my life,

You, the sublime protector and generous Christian who open your chest for good beings, I enter him and I will leave him with the blood of your heart,

to get rid of them and do not allow them to interrupt my Christian march and if they persist, hell be the punishment as payment for their evils and deliver me from all evil.

Amen.
If you want to learn more about this powerful saint, don't miss our test. It consists of only 10 questions and in it you can expand your knowledge.
---
Spread the knowledge and share this information.
Learn more about the powerful and miraculous Santa Barbara:
Most read content: