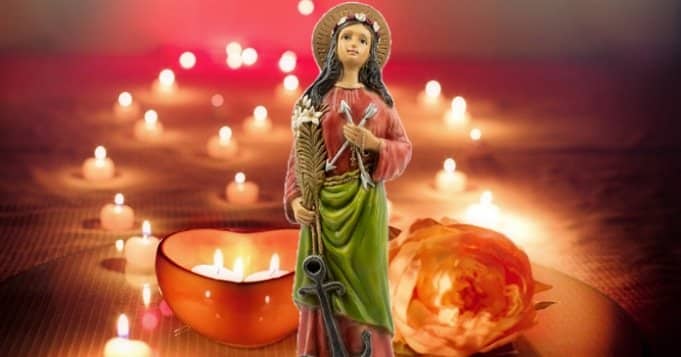 St. Filomena She is one of the most revered saints in the Catholic Church, known for her fairness and determination to intercede in difficult times.
This martyr is prayed for to help us obtain the resolution of difficult petitions.
Prayer to Saint Philomena for difficult and desperate causes
O glorious Saint Philomena, virgin and martyr, example of faith and hope, of strength and patience, generous in charity and humble in life and always kind to those who kneel at your feet pay homage to you, I beg you, my saint, hear my prayer.

From heaven where you reign and joyfully die for your great merits and many virtues, bring down on meí all the protections and aids that are so necessary to me at this time that my strength weakens and I feel like I can't take it anymore.

You who enjoy the eternal rest of glory and are so powerful in the presence of God intercede for me, have mercy on me I beg you please, make my pains end from now on, that my difficult needs are remedied as soon as possible and grant me the grace that I ask of you, full of confidence in your reach of mediation in the eyes of the Lord (ask for what you want to obtain with faith and hope).

Oh holy Filomena, martyr of Christ full of faith and goodness, illustrious for so many miracles that God in his goodness has granted and continues to grant with a profusion of love and benevolence towards us, I beg you, pray for me, do not stop praying for my affairs so that peace may come to my heart and tranquility to my life and for your merits, your virtues, for your generosity for your purity of heart and sweet piety, grant me the miracle of seeing my difficult problems resolved as soon as possible and everything that makes you suffer.

Do not abandon me holy child, child of unparalleled charity, never stop looking like a ray of hope on me and my family, on our many sorrows and on what disturbs our tranquility and worries us so much.

Remove from me the temptations, the occasions to sin, give peace to my soul, comfort my life and bless my house.

Oh holy Philomena of pure love and perfect dedication for the blood that you shed for the love of Jesus Christ, be my protector and grant me the grace that I ask of you (repeat the request) my gratitude will be with you today and always.
Following this prayer to Saint Philomena for difficult requests, an Our Father, a Hail Mary and a Glory should be prayed.
Padre nuestro
Our Father who art in heaven, hallowed be your Name, your Kingdom come; Thy will be done on earth as it is in heaven.

Give us today our daily bread; forgive our offenses, as we also forgive those who offend us; do not lead us into temptation, and deliver us from evil. Amen.
Ave Maria
God save you, Mary, you are full of grace, the Lord is with you; blessed are you among all women, and blessed is the fruit of your womb, Jesus.

Holy Mary, Mother of God, pray for us sinners, now and at the hour of our death. Amen.
Gloria
Glory to the Father, and to the Son, and to the Holy Spirit. As it was in the beginning, now and forever, and forever and ever. Amen.
Saints and prayers that will help us in difficult times:
Most read content: