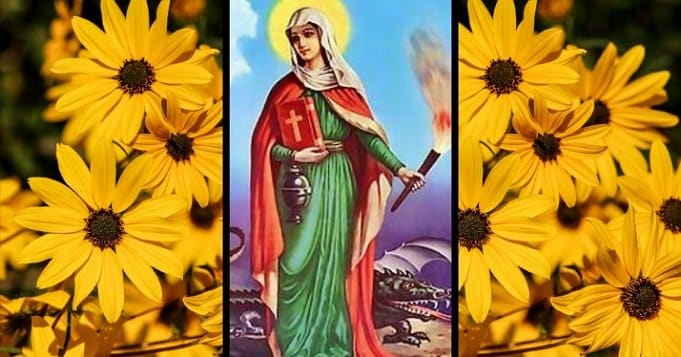 Santa Marta is a venerated figure in the Catholic Church for her special condition as protector of the homeless and people who selflessly perform charitable works.
His cult has grown largely due to the innumerable miracles associated with it, which are related to:
the family union,
the sacrifice
for love and
health.
Santa Marta is invoked through her prayer in order to ask for her protection and help in the face of difficult times and difficult causes.
It is necessary to pray to her for seven consecutive days because this saint only helps those who are able to show that they are patient and persevering.
Santa Marta ► The Virgin Protector of the innocents
Marta was a native of Bethany, a small town belonging to Jerusalem, there he lived in a modest house with his brothers Lazarus and Mary.
In their home Jesus stayed repeatedly, whom they welcomed with great love and happiness, since then he dedicated himself to serving him with great devotion.
After her death, she was canonized by the Catholic Church in homage to her noble acts of contribution and detachment from the material.
The Saint who defeated the dragon.
Santa Marta is usually shown carrying a cross As a symbol of her faith, at her feet is a surrendered dragon, she is represented dressed in blue or green, with her apron and keys at her waist, serving the guests with the same devotion and dedication with which she attended to Jesus.
Santa Marta protects those who serve others.
Santa Marta is considered the patron saint of cooks, maids, hoteliers, and people who provide services to guest houses, laundresses, nuns, and female protectors of the home.
This Catholic saint offers special protection to those human beings who dedicate their lives to serving their fellow men in a selfless way.
Prayer for 7 days to Santa Marta to make a request in difficult cases:
Oh happy Santa Marta, my miraculous Santa Marta, I take refuge in your shelter and protection Giving myself to you on this day, so that you help me in my tribulation and in proof of my great affection and sure gratitude, I promise to be a faithful follower, to pray to you more often with fervor and I offer myself to spread your devotion.

Console me in my sorrow and bitterness, I beg you for the immense happiness with which your heart rejoiced when you hosted Jesus our only Savior in your house in Bethany, intercede for me in this moment of affliction so that I may always keep our heart in my heart. Creator God the Father, so that you may live continually in his grace and reject all offenses against him with ardor.

So that my pains can be remedied and especially this one that now torments me (make the request).

I beg you to help me overcome difficulties with the strength with which you defeated, with determination and by the power of the Cross, the dragon that you have surrendered at your feet.

I beg you to attend me and help, do not ignore my ardent pleas so that I can always go forward without bitterness that torments me.

So be it.
Next, three creeds must be prayed, three of our fathers, three birds of Mary and three glories. This Prayer is performed for seven consecutive days.
Other powerful prayers to the Saints:
Most read content: