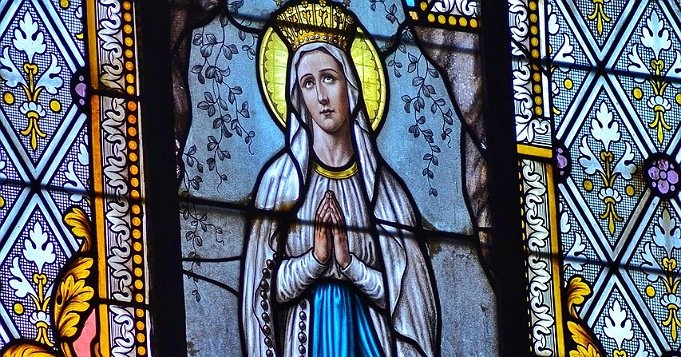 The Catholic invocation of Our Lady of Lourdes it is related to one of the eighteen apparitions of the Virgin Mary on earth.
Avatars where he performed multiple tasks separately for the benefit of others, considering all human beings as his children.
How is Our Lady of Lourdes represented?
Our Lady of Lourdes appeared wearing a youthful appearance, wearing white robes adorned with a blue ribbon at the waist.
The hands together at the level of the thorax in a prayerful attitude carrying a rosary, which falls from his arm and adorning each of his feet with a golden rose.
Finally, it is appreciated that a white veil covered her hair.
The patron saint protector of the sick
The Virgin of Lourdes is recognized by the Catholic Church as the patroness of the sick and convalescing.
Being this saint to whom patients who suffer in homes or hospitals are entrusted, begging her to grant them a speedy recovery from their ailments.
Its festivity is celebrated every year on February 11, occasion in which the sanctuaries are adorned with white roses in his honor.
Prayer to ask the Virgin of Lourdes for a sick person and a miracle of health
O most loving Virgin of Lourdes, mother of God and our mother, full of sorrow and with tears flowing from our eyes, we come before you in the bitter hours of illness to your maternal heart, to ask you to pour out with full hands the treasure of your mercies About us.

We are unworthy for our sins that you listen to us, but remember, I will tell you with your servant Saint Bernard, that it has never been heard that none of those who have come to you have been abandoned by your tender mother.

Kind mother, most sweet mother, since God works by your hand healings without count in the prodigious grotto of Lourdes, healing so many victims of pain, also keep a look for our poor patient (mention the full name of the patient) and all those who have been entrusted to your holy name.

Obtain them from your divine son Jesus Christ the desired health, if it is to be for the greater glory of God.

But much more reach us to all the forgiveness of our sins, patience and resignation in the sufferings and grievances and above all a great love towards our God.

Virgin of Lourdes, pray for us. Amen.
Saints who always protect our steps:
Most read content: