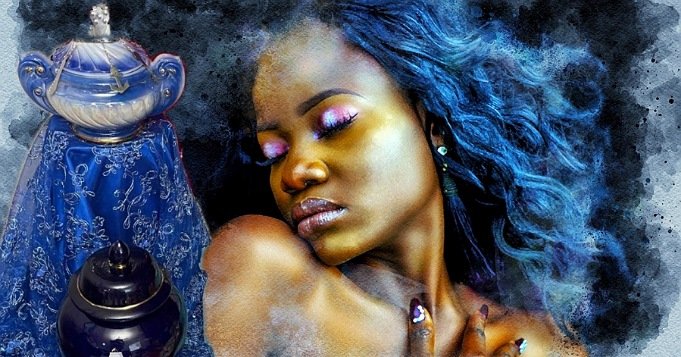 Our powerful mother Yemayá is the first born when Constitution create the world.
It is the water of the sea, the mermaid that dances on the waves, lives among snails and marine treasures, it is the fertility, the storm and the quiet whisper of a mother who cradles.
He is a head Osha, a superior deity in the Yoruba pantheon. It was our Yemayá who extinguished with her waters the fire that dominated the earth at the beginning.
Yemayá is the Universal mother of all, symbolizes the womb that originates life, fertility and pregnancy. She is a noble and kind goddess, but when she gets angry she is rigorous and indomitable with whom she is lacking, although always very fair.
Our Mother is also the vastness of the ocean, the spirit of the seas, worthy mother of all the Orishas, ​​from her is born the power of all divine secrets.
Yemayá is also known by different names in other regions that practice our beliefs.
Other names by which Yemayá is identified:
Mommy Wata,
Maman de l'Eau,
Mommy Apouke,
Maman Dlo,
Yemoja,
ymoja,
Yemowo,
mamadjo,
Mamba Muntu.
I pray "open roads" to Yemayá to thank and ask for her holy protection:
In short, Yemayá is powerful and sacred, she is a blue goddess, she is the sea, the womb of the world, life itself.

If you need Iyá Yemayá you must go to meet her, to her salty waters and cry out with love, devotion, faith and she will listen to your prayer.

Talk to our mother from the bottom of your heart and she will reward you with her favors. This is a powerful prayer to Yemayá for help.
Heavenly Mother of the seas.
Here is your child prostrate at your feet because
Great is your might, your strength, and your light.
Immense is the love for all of us, your children on earth
Mother who with great wisdom guides us from seas and oceans.
I implore you so that my prayers reach you,
Keep enemies off my path
Drive away my fears and anguish
Erase sadness, regrets and grudges from my home
May my greatest wealth be your presence and benevolence
Blessed are your waters, blessed are your nobility
That you listen to my requests
May my prayers be heeded if they are fair and deserved
Imposing and majestic queen Yemayá
My faith in you grows every day
Thank you for your protections beautiful mother.
If you want to make an offer to him, below I leave you some powerful works on his behalf.
You can also give Mother Yemayá offerings:
Most read content: