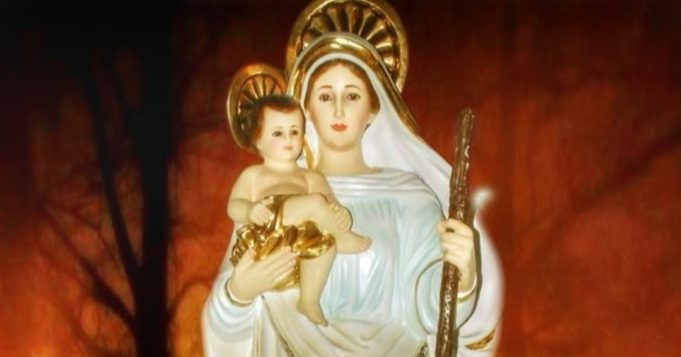 We pray from the heart, for all those people who have the courage to undertake a new journey towards other horizons. May your steps have a lot firmness, stability and development.
In the midst of this difficult situation that we are going through, many people were unable to return to their homes and today they are sheltered by other lands.
Let us implore that they can return home to their family and friends soon, and that they do so safely.
May love and humility be your comfortMay they find relief in prayer and hope be their refuge.
Prayer to the Virgin of the Way:
O glorious Virgin of the way! Before we begin our journey, we want to count on your help and powerful intercession.

We know from the gospel of your son that you had to undertake a long journey to Bethlehem by order of Emperor Augustus for the scheduled census to take place. On this trip you suffered the difficulties of a pregnant woman and at the end of it, you gave birth to Jesus Christ our Savior.

Once the child was born, your husband, Saint Joseph, was told that Herod wanted to kill him and they had no choice but to seek asylum in Egypt, a foreign country, and that is where your steps were directed.

That's why Holy Virgin of the way, as you know well the hardships of travel and you yourself were a traveler on several occasions, today we come to you to implore your protection on this journey we intend to undertake.

May the Holy Spirit guide my steps and those of my family at this time if it is for the greater glory of God and the good of our souls.

Grant us Holy Virgin of the wayIf this trip is not convenient for us, knowing the sublime will of God and knowing how to abide by it.

Always accompany us until the day when called by God we direct our steps towards heaven where your habitas as queen of all creation.

Three times it will be said:

God save you Maria
full of grace
the Lord is with you;
blessed you are
among all women,
and blessed is the fruit
from your womb, Jesus.
Holy Mary, mother of God,
pray for us sinners,
now and in the hour
of our death.

Amen
Most read content: