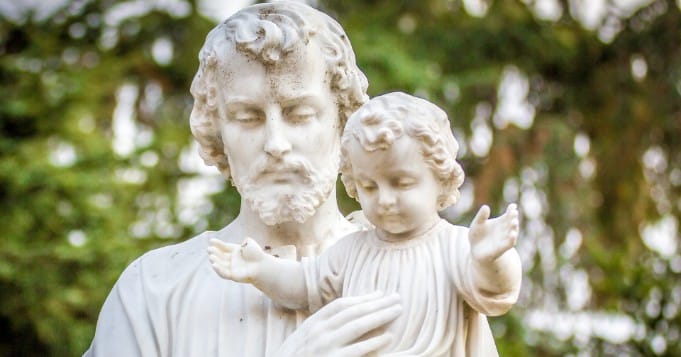 Joseph of Nazareth, the father of Jesus and the husband of Mary, the man who in life knew how to instill in his son:
Love for humanity,
the necessity of the work sacrificed to obtain the desires and
the deep conviction that there was no greater treasure on earth than honesty.
For these and many reasons Joseph was great, because he knew that his duty was above his joy, and then God, seeing his pure soul, gave him the grace to welcome his son as his own.
Joseph, Holy Father and Protector of Christ
José came from a humble family, where the livelihood was working as a carpenter craftsman.
Work that later he would teach his son and that would be very virtuous in his oratory, because Jesus of Nazareth through his words sought to shape society and lead them on a better path, leaving in them the trace of mercy.
Why was Saint Joseph nicknamed the silent saint?
San José was nicknamed as the silent saint, because by sealing his lips he listened over time to multiple wishes and confessions from the man, which he kept without murmuring or reproaching a word.
For this reason he is also known as the compassionate saint, since he sees the religious with the eyes of a father and not with a judgmental gaze.
How is Joseph of Nazareth represented?
Joseph of Nazareth is represented carrying the child Jesus in his arms, sometimes he usually accompaniesañarse of a Flowering Wand, a lily or a tuberose.
The Catholic Church attributes to him the Crook, the carpenter's saw and the toga.
San José is considered Patron of the:
Carpenters,
emigrants,
travelers and
children.
Saint Joseph, the protector of the Christian family
His biblical work leads him to occupy the high responsibility of being the protector of the Christian family, guiding the steps of the family members and protecting it from the sins of humanity.
Prayer to Saint Joseph for intercession and to ask for a favor
Happy and blessed Joseph, to whom it was granted not only to see and hear God, whom many kings wanted to see and did not see, hear and did not hear, but also to embrace, kiss, clothe and guard him.

Pray for us, blessed Joseph, that we may be worthy of reaching the promises of Our Lord Jesus Christ.
Meet other beautiful prayers to the Saints:
Most read content: