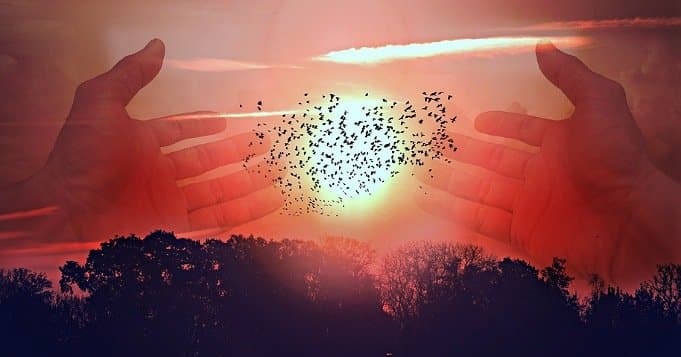 It is very important for the faith and spirituality of each one, to perform the Prayer of the Mañana when getting up.
The first hour of our mañana sets the tone for the rest of your day and if we entrust ourselves to our spirit guides when we wake up, we can trust that they will protect us and bless us in the journey ahead.
Why is it important to thank and pray in the mañan / A?
Taking the time in that first hour to spend in prayer and adoration, thanking and reflecting on our joys and sorrows, will help us find inner peace and happiness.
The Prayer of the MañaNa when getting up is one of the most important prayers, since it always helps us to face the new day in a better way.
It is a prayer for the heart, to give thanks for the little joys of each day and to always ask for the blessings of heaven.
Dawn, signifies the beginning and announcement of a new day, reminds us that we are lucky to be able to live again.
That is why the mañana is a good time to show our devotion to those who guide our path and keep us from stumbling.
How to perform these rezos for the new day?
To welcome a new journey and a new beginning, we must raise our prayer of thanks.
We can light a candle if we wish, or go out to our garden, or greet the sun, the important thing is that it is from the heart, and thus do it every day with gratitude, love and faith.
by the mañana when we get up, you should pray with a positive attitude that will cause this to extend throughout the day and that we attract only good vibes.
This is the prayer of the mañawhat we do when we get up:
On this new day, sir, I come to ask you for peace, prudence and the strength to carry on

You who guide me on my way, illuminate my day so that it is fruitful

Today I want to be patient, understanding, sweet and prudent and help everyone who needs it

In this new beginning I want to give thanks for another day of life on Earth and for another beautiful sunrise to enjoy.

Thank you for allowing me another day to spend with my family and for another chance to live.

You who are my shield, keep me strong to follow my path and enjoy all your blessings

Help me accept anything that comes my way as an opportunity

Help me and my family, so that we all get home safely again

Amen.
You can also start the day with a spiritual bath to open paths:
Most read content: