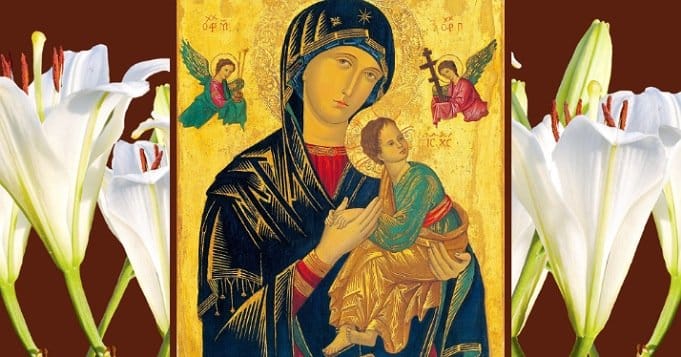 Our Lady of Perpetual Help is a marian invocation that alludes to the Virgin Mary mother of the child Jesus.
Through the presence of this saint, the Christian faith shows the help that Mary gave her son during his Calvary.
The Virgin of Perpetual Help She is the patron saint of numerous places and religious and educational institutions, she is also known as the safeguard of the insurance brokers.
His festival is celebrated every year on June 27, moment in which white lilies are offered to the virgin.
The Representation of Our Lady of Perpetual Help
The original image of Our Lady of Perpetual Help is an icon from Crete, where it is believed that the cult of this Marian dedication began.
His representation shows Mary with the Child Jesus in her arms, while Jesus observes two angels who reveal to him the instruments of his future Passion.
What makes this representation particularly special is the fact that the child Jesus holds his Mother tightly with his two hands, as if seeking to obtain from her the strength and support necessary to fulfill his mission on earth.
Miraculous prayer Virgin of Perpetual Help grant me a request!
Oh my Mother, Perpetual Help of all those who suffer and all those who cry, allow me, laying my downcast forehead on your mother's heart, to tell you my sorrows and express my wishes, because you alone are my hope in this work. sad in that all evils beset me.

Mother of Perpetual Help, you know all the pains of my life and above all the enormous pain that today brings me to your maternal arms.

I adore the divine will of my God and today as yesterday and as always. Amen.
Prayer to Our Lady of Perpetual Help for protection
O mother of Perpetual Help in whose arms the same child Jesus seems to seek safe refuge, since that same God made your son as a tender mother you hold him to your chest and hold his hands with his right hand, do not allow, Lady, that that same Jesus offended by our faults, unload the arm of your irritated justice on the world, be our powerful mediator and advocate and stop your maternal help the punishments we have deserved.

Especially my mother, grant me the grace and protection that I ask for. Amen.
Among these prayers, prayers and Saints, we find calm and faith:
Most read content: